In Ukraine, large-scale military exercises began. In the maneuvers that take place in the Nikolaev region, the military personnel of the 28 separate mechanized brigade are involved, as well as motorized infantry brigades of the so-called "South" operational command.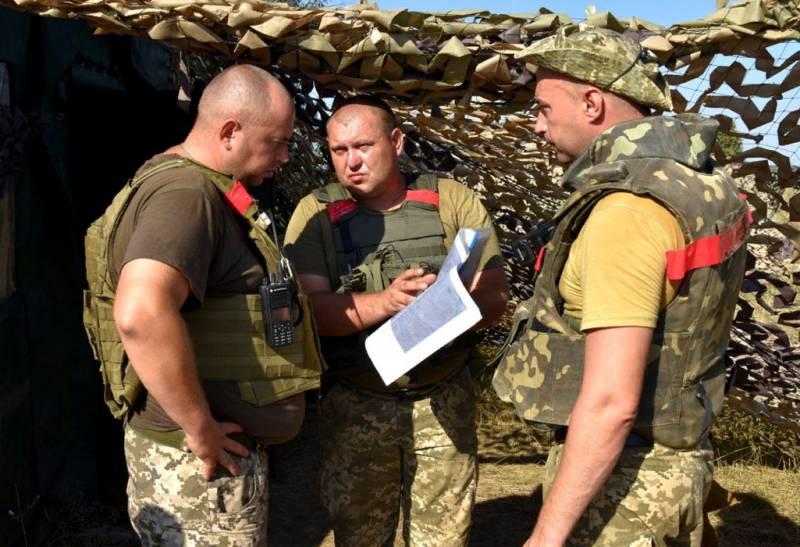 It is noted that the venue of the maneuvers was the notorious "Wide Lan" training ground in Ukraine. And this fame became scandalous after military personnel were sent to training camps in tents, which literally were drowning in mud, and there were often problems with food supplies at the training ground.
The command of the Armed Forces of Ukraine says that the main task of the exercises was the task of "developing tactical techniques acquired during the war in the Donbass." In particular, the mechanized brigade will be the advancing side, the soldiers of motorized infantry formations will be the defending side. In this case, the advancing forces of the Armed Forces will have to overcome the water barrier. Forcing is called the key stage of exercises.
The advancing party, as insignia, decided to stick red tape on the form. Ukrainian users ridiculed this attribute, noting that "the advancing Reds have not been decommunized." It is also proposed to mark with red tape the hats of the "generals".
Against this background, there are reports from the DPR that from the positions of the Armed Forces, shelling of the outskirts of Gorlovka was carried out. The Republican Ministry of Emergency Situations notes that the shelling was carried out using anti-tank missiles, one of which hit the residential building of the working village of the mine named after Gagarin. As a result of the shelling in the house-building, the roof is seriously damaged. Fortunately, there were no casualties. This is a vivid example of what "tactical methods" the Ukrainian army continues to practice in the Donbass.