A collection of declassified archival documents on the conclusion of the Molotov-Ribbentrop Pact was presented in Moscow. The presentation was held at the House of the Russian Historical Society.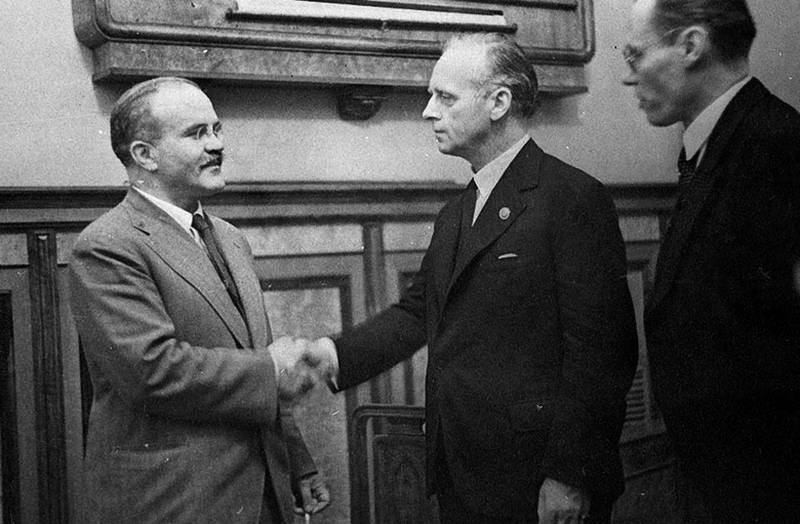 In Moscow, documents were presented proving that the initiatives to conclude the Molotov-Ribbentrop Pact came from Hitler Germany, and not from the Soviet Union, as they are trying to imagine in the West. The documents presented in the collection confirm that the Soviet Union was forced to sign this agreement in order to ensure its security.
This is a whole volume of documents entirely devoted to Soviet-German relations in the prewar years.
- said the chairman of RIO Sergey Naryshkin, adding that the new issue included documents from the archives of Stalin and the Politburo of the Central Committee of the CPSU (B.), declassified from 2006 to 2015 for a year.
According to Naryshkin, the Third Reich forced the USSR to sign a non-aggression pact, wanting to secure its eastern flank and fearing a war on two fronts. At the same time, the Soviet Union was aware of the real goals of Western countries, counting on the pacification of Hitler, as well as Germany's intentions to ultimately start a war with the USSR.
Not wanting to wage war on two fronts, Germany made unprecedented concessions to guarantee Soviet neutrality in the Polish campaign. Of course, the leadership of our country did not believe in a lasting peace with the aggressor, but in this way received a respite to prepare for war
- he said.
The non-aggression pact between Germany and the USSR was signed on August 23 1939 of the year in Moscow. At the same time, a secret protocol was signed that delimited the interests of the Soviet Union and Germany. According to him, the USSR significantly advanced its borders to the west, gaining the Baltic States, western Belarus and Ukraine, as well as Bessarabia.
Military historians believe that this pact allowed the Soviet Union to gain time to prepare for war, strengthen the military industry and increase the size of the Red Army, and the borders pushed to the west allowed the industry to be evacuated after the German attack.