The Russian media, and we, together with them, are discussing a statement by TsNIItochmash on the development of a modular
weapons
for the Russian army.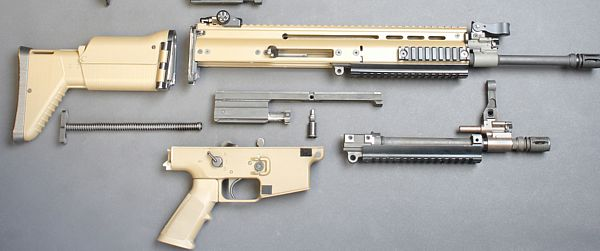 The idea of ​​using modular weapons in the troops is not new. Many countries, mainly, of course, NATO's high-tech partners, have long been putting into practice an extensive array of tactical body kits, thereby expanding the capabilities of the average fighter.
"... And the headlamp! Screw the headlight on my forehead so that it can mow at night! "
(From the folk.)
Of course, America in the race "how to increase the cost of the Marine" defeated everyone. In 1994, especially for the Motherland, the brave guys from the Colt company created a kind of shooting bar for Picatinny or Weaver (yes, there are options too).
But this is all the kit, although the guys from Heckler and Koch also did not lag behind and in 2005 developed HK416.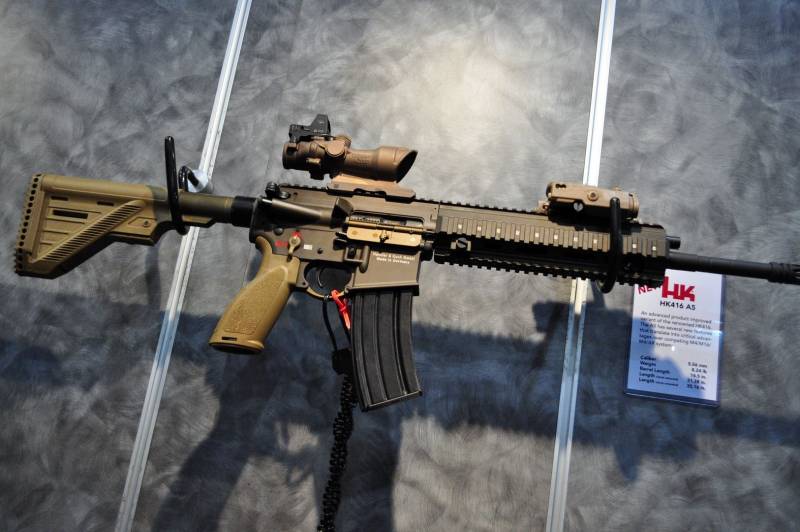 All these are body kits, trims, forends designed to increase practicality, convenience and high cost. It's a stretch to call such systems modular, although if you really want to ...
In fact, a module is something that can be uncoupled without using factory facilities and add something else more appropriate to the moment to replace it. So the replacement in the city of an optical sight with a collimator is, in principle, also modular. Especially if both items are included, shot and so on.
But in 2005 the Belgians entered the scene, and the rest hiccuped. The world introduced the FN SCAR. And everyone understood what true modularity is.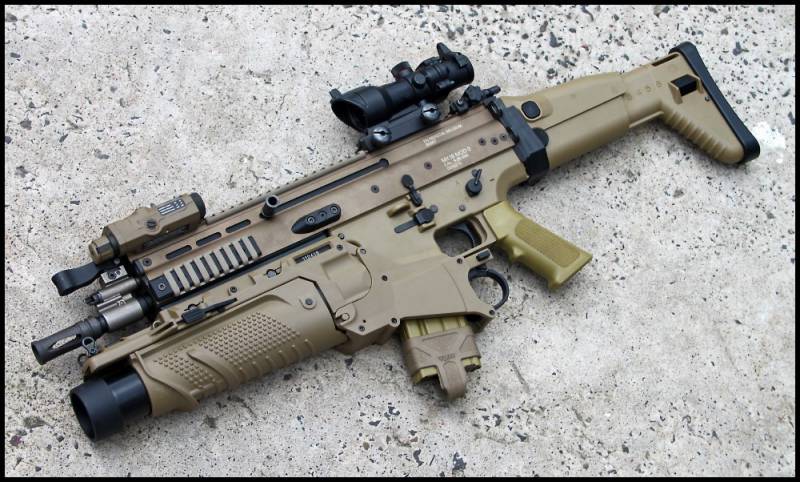 Having one base, we immediately get 3 versions, and this is CQC - close combat with a barrel length of 253 mm, STD - standard 351 mm and SV - sniper 457,2 mm for L (light) - versions for the cartridge 5,56 and 330 mm, 406 mm , 508 mm, respectively, for the H (heavy) version under the 7,62 cartridge.
True, in order to achieve those very options, you need to change the trunk.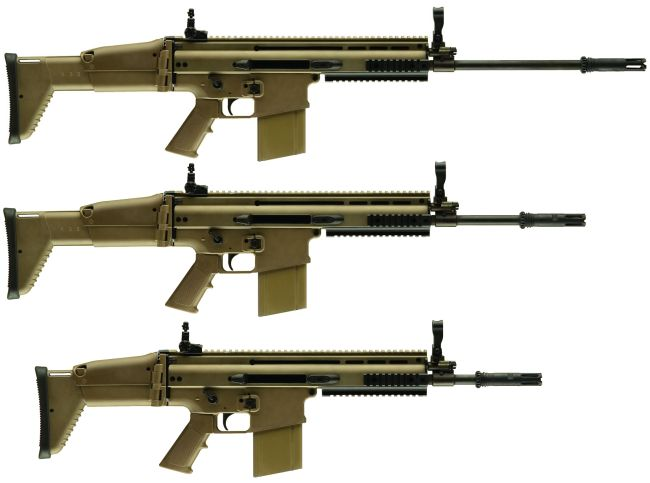 Of course, the manufacturer claims that the fighter himself can do this with a minimal set of tools. To state, of course, anything can be, the question is only in implementation. It is clear that in relation to NATO, it is absolutely not about the fact that the Yanks or Germans will be picking their rifles with multitools, because they are hot.
It has long been known about the repair units in the NATO armies, so the replacement of modules is the destiny of just these specialists.
Typically, the Heavy version can even be rebuilt for our domestic 7,62x39 with the possibility of power from stores from AKM.
Of course, for such a reassembly, it is necessary to replace the barrel, shutter, lower receiver, that is, leave the butt forend and upper receiver.
What is it? It turns out that here it is, modularity!
But at the same time we understand that even soldier Jane is incapable of filing such a thing in the field. And then a chain reaction begins.
The detonator will be the question: why? And how much will everything be OK?
But let's take a closer look at how cool everything is. It turns out that the unit's fighter must either carry it all in the grocery cart behind him (carrying an extra pair of kg is not an option), or it will carry some kind of "Hammer".
It is clear that the second option is preferable for everyone. When they take you for it, it's excellent. Ok, uploaded to Humvee. But the trouble is, these "Humves" for some reason are tearing at land mines - do not feed honey. And the output is quite a regular situation, when these modules, conveniently folded in a jeep, a little of that ... Spoil. Leaving the compartment (or even two) without the necessary toys.
We exaggerate, we agree. Of course, all these manipulations can and should be carried out at the base. And there all this stuff should lie under the watchful eye of Corporal Bill, who at the right time will take weapons from your not very direct hands and do with him everything that is needed according to the submitted application.
And in the field, in a tent, squatting, and with the help of multitool, re-shorten the Belgian rifle ... I would like to see this, especially on the forelock of the barrel.
But excuse me, why is such a modularity needed if you can just change weapons? If all the same everything lies at the base, once a specially trained person sits there ...
Just imagine two identical bases. In Syria, for example. And from both bases, two groups will go "to the exit" to chase terrorists into the town of Al-Khuhum. Our and American. Maybe they'll go different, maybe the same ones. What is the difference?
And the difference, it turns out, is that the American guys will carry their trunks for re-equipment, since there will be possible conflicts in the conditions of urban development. That is, down with long trunks, down with optics, put medium and short, flashlights, collimators and so on.
Only the trunk change plays here. The fact that changing it to SCAR seems to be simple is half the battle. Yes, it seems to be simple. Three axes of fastening, hexagons and all that. Just affairs, unscrewed, took out, inserted, twisted.
But if Billy, who did not get enough sleep, does it with a hangover and so on ... The human factor, so to speak ... Undercuts, underscores, and loses a cog ... And somehow it's not very good either. It's one thing if you (hypothetical for example) move the bolt frame into the bridge of the nose because of Bill, and another thing if you yourself are slightly crooked.
Perhaps this mentality affects us, but isn't it easier to go to the warehouse to the ensign Serge Serega and there to take the factory-made finished product, shot and all that? In which no one's hands were digging, and if you were digging, to be honest, did you often watch AK for repairs? Here we are…
But there is one more thing. Price issue. So, about the price. For everything in this life, including the apparent universality, you have to pay. Pay full $ 3000 - $ 4000. By the way, nowhere is it said that for the money replaceable modules are included. We are even sure that everything has its price, additional and considerable.
And here is the price. How much does the AK-74 cost there? AK-103? And so on? Well, all up to a thousand dollars, SVD will be a little more expensive. That is, for one modular rifle from FN we can stupidly get a box with trunks on our hands, which is for all occasions.
Note a box in which nothing needs to be twisted, twisted and remodeled. In which there will be a weapon with which you can at any time begin to carry out a specific combat mission.
Someone may object, they say, universality is our everything. Need a rifle sniper-Marxman - change the kit and you're done. Need a melee weapon - not a question. We need a weapon under a cartridge of a different dimension - and there are no problems.
Alas, there are problems. Of course, it may not be worth focusing on this, but the resource of the connecting elements in the receiver, where the temperature differences and mechanical loads is very, very.
And the most important thing. It is clear that the resource of all these cogs and cotter pins in the receiver is quite large. It is clear that this is for NATO, which means the best in the world. And we will not argue about how well the Belgian gunsmiths work.
Anyway, you need to drag along heaps of these modules. Plus equipment. Plus specially trained personnel for working with weapons. Plus all the same warehouse workers. By the way, the last two categories need to be fed, watered and all that.
In general: it makes sense to think for some perspective. Especially for those who have problems of a certain nature in terms of production. It is also useful for those who have a professional and small army.
In our case, all the dances on the topic of modularity, changing trunks, calibers, cartridge dimensions - this is from the evil one. In fact, we are able to provide ourselves with a simple but reliable weapon that does not require technicians, specialists in the field, shamans in the forest, and so on.
From good to seek good - well, so-so occupation.