In India, information was confirmed that for the country's air force modernized versions of the MiG-29 fighters will be purchased from Russia. At the same time, traditionally for India, the opinions of experts were divided. Critics of the contract have stated that the Indian Air Force should receive "exclusively modern combat aircraft, and not rely on
Aviation
past generations. "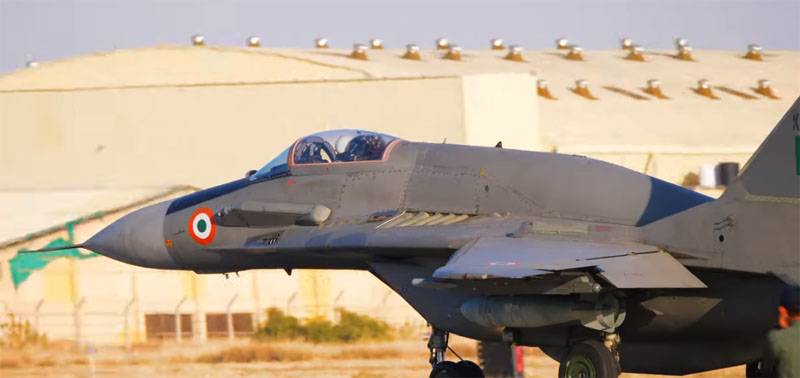 Meanwhile, the OneIndia publication notes that the purchase of the upgraded MiG-29 is very profitable, as it is carried out "almost at a bargain price". If you believe the data of this Indian publication, Russia will supply the aforementioned modernized aircraft (with the latest avionics and weapons systems) for the Indian Air Force at a price of 200 crore apiece (crore is an Indian measure equal to 10 million). This is about 1,8 billion rubles (27,6 million dollars). For example: non-modernized MiG-29 with weapons are estimated at approximately 700-800 million rubles.
OneIndia adds that this kind of purchase will cost the Indian treasury significantly cheaper than an additional purchase of Rafale aircraft.
The announcement of the "bargain price" in comparison with the price for "Rafali" caused a wave of criticism among opponents of the acquisition of the MiG-29 in India. Words say that for the MiG-29 the price of 27,6 million dollars is too high, even if it went through a multi-stage modernization.
Returning to the material in the aforementioned Indian edition, one should note the hypothesis expressed by Indian journalists as to why it was the MiG-29 party that they decided to purchase for the Indian Air Force. The hypothesis is approximately the following: If the F-16 of the Pakistani Air Force was shot down in February by a modernized MiG-21 aircraft, then this proves the high efficiency of the MiG line. If we take as a basis such a logic of Indian journalists, then the chances of MiG-35 increase in the Indian market.
From the material:
Many experts express concerns that these Russian aircraft are old and not suitable for the current era of fighters. MiGs are also called "flying relics." (...) This aircraft is actually 33 years old, but it still remains effective
armory
a platform. TTX MiG-29 really show that the fighter is still in good condition and modernization allows it to serve an additional 10-15 years.