For the second day, the Ukrainian security forces made no attempts to pick up the bodies of those who had blown up on mines at the contact line of the fighters of the 72-th brigade of the Armed Forces, despite the security guarantees given by the People's Police of the LPR. This was reported in the press service of the NM LPR.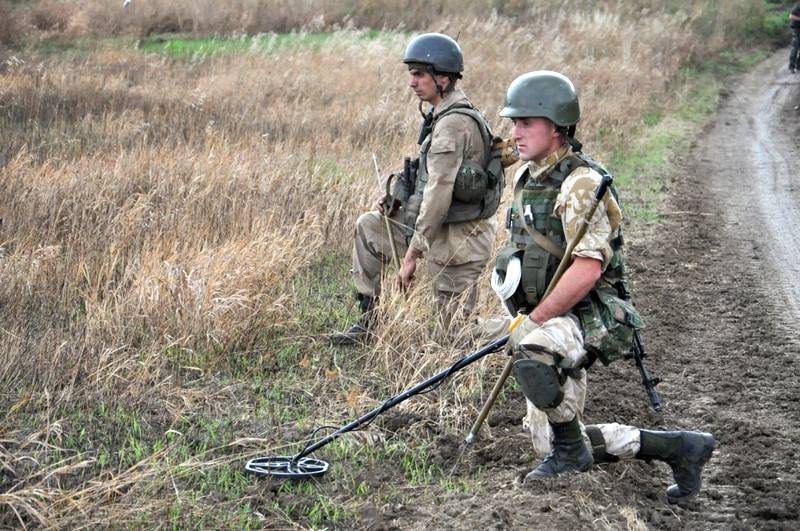 According to the official of the press service of the defense department of the LPR, Ivan Filiponenko, the Kiev side does not make any attempts to evacuate the bodies of two APU sappers, who were blown up during mine clearance near the contact line in the area of ​​the settlement of 9 in August. At the same time, the command of the Operation of the combined forces appealed to the command of the NM LPR with the request to provide guarantees not to open fire during evacuation, and they received such guarantees. It is possible that Kiev intends to use this situation to deploy another information company against the Lugansk Republic with the charge of the militia in the deaths of the Armed Forces.
Despite the provision of additional security guarantees by the LPR People's Police command, the Ukrainian side did not attempt to evacuate the bodies of Ukrainian troops
- the press service of the NM LPR says in a statement.
Earlier, the LNR NM press service said that according to 9 intelligence data, in August, during demining near the contact line, serious injuries that were not compatible with life were caused by the destruction of Ukrainian mines by two Ukrainian Armed Forces from the 72 brigade newly arrived in Donbass. This incident occurred due to the lack of a minefield map of the new unit established by its predecessors.
Colonel Alexei Maistrenko, commander of the 54 brigade, "kindly offered to buy" accurate maps of minefields installed on the site. However, the new commander of the 72 brigade, Colonel Artem Bogomolov, fundamentally refused the deal and gave instructions to conduct engineering reconnaissance of the terrain and mapping the minefields to his engineering units
- stated in the press service, adding that during the reconnaissance there was an explosion of a group of sappers of the 72 brigade, as a result of which two servicemen were mortally wounded.