Aircraft carrier USS Ronald Reagan (Ronald Reagan), sent by the US Navy to the South China Sea, arrives, as stated, on a friendly visit to the Philippines. The appearance in the South China Sea of ​​the number of ships of the 7th
fleet
The US Navy aircraft carrier in China by another attempt by the United States to escalate the situation in the Asia-Pacific region.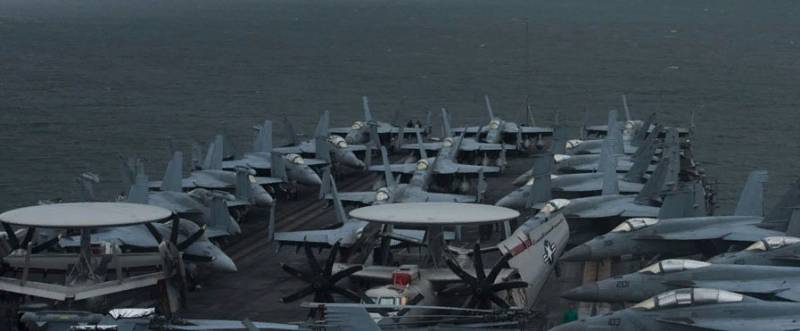 Meanwhile, the Philippine press is discussing a photograph published by US troops from the USS Ronald Reagan aircraft carrier. Attention is drawn to the fact that on the deck of an aircraft carrier of the US Navy "there is nowhere to turn around with a large number of aircraft of various types stationed on it." So, in addition to carrier-based fighters on board the Ronald Reagan, you can see two early warning radar aircraft (E-2 Hawkeye) with their wings folded.
Dozens of military units
aviation
on the deck of the American aircraft carrier, when entering the Philippine port with a "friendly" visit, very conflicting assessments were made by the Filipinos. Some say that the United States thus continues to demonstrate support for the Philippines. Others believe that the "strewn" with various types of aircraft USS Ronald Reagan only adds a degree of glow, including on the issue of the disputed islands.
It is noted that with modern weapons of the same China, "air clutter" on the deck of an American ship plays an extremely negative role for the ACG itself and is a "strange echo of the 60-70-s": if there is a real conflict, these aircraft will not even have time to rise from the deck.