On 1 on August 2019, Admiral William Moren was to assume the post of commander of naval operations of the U.S. Navy (see article
"The New American Commander-in-Chief: A Lesson for the Russian Navy"
. Instead, he is surrendering business right now and is retiring under extremely dubious circumstances. The post of commander remains Admiral John Richardson. Who and when will replace him is unknown.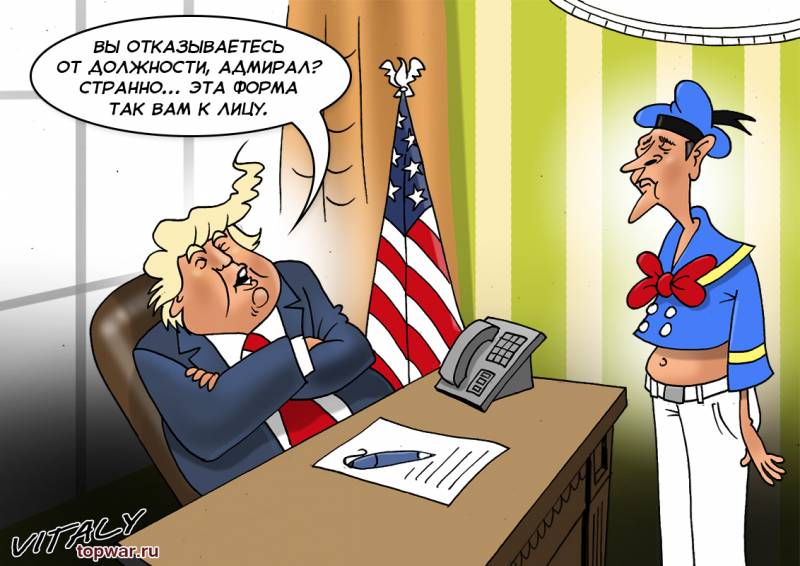 Failed assignment
Morin, a former anti-submarine pilot
aviation
, a former pilot instructor, former staff member of an aircraft carrier strike group, participant in a number of reconnaissance operations involving anti-submarine aircraft and a former deputy commander of naval operations for air warfare and training, was promoted to future commander of naval operations , received the support of Donald trump and went through all the selection procedures in Congress, which also approved his candidacy.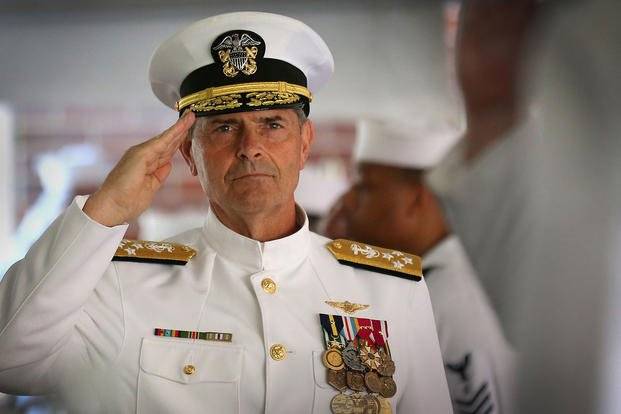 Bill Morin, a failed CNO
However, instead of taking office, he wrote to the US Secretary of the Navy, Richard Spencer, a resignation report. The exact content of his report is unknown, although fragments are given in the press. But the reaction of Minister Spencer himself received some publicity:
"Admiral Bill Moren just drew my attention to the fact that over the past two years he has maintained professional relations with a man who was unable to meet the values ​​and standards of the naval service."
And further:
"I admire his faithful service and devotion to the naval forces, but his decision to maintain the relationship mentioned above made me question his opinions [about people]. So I accepted Admiral Moren's resignation. "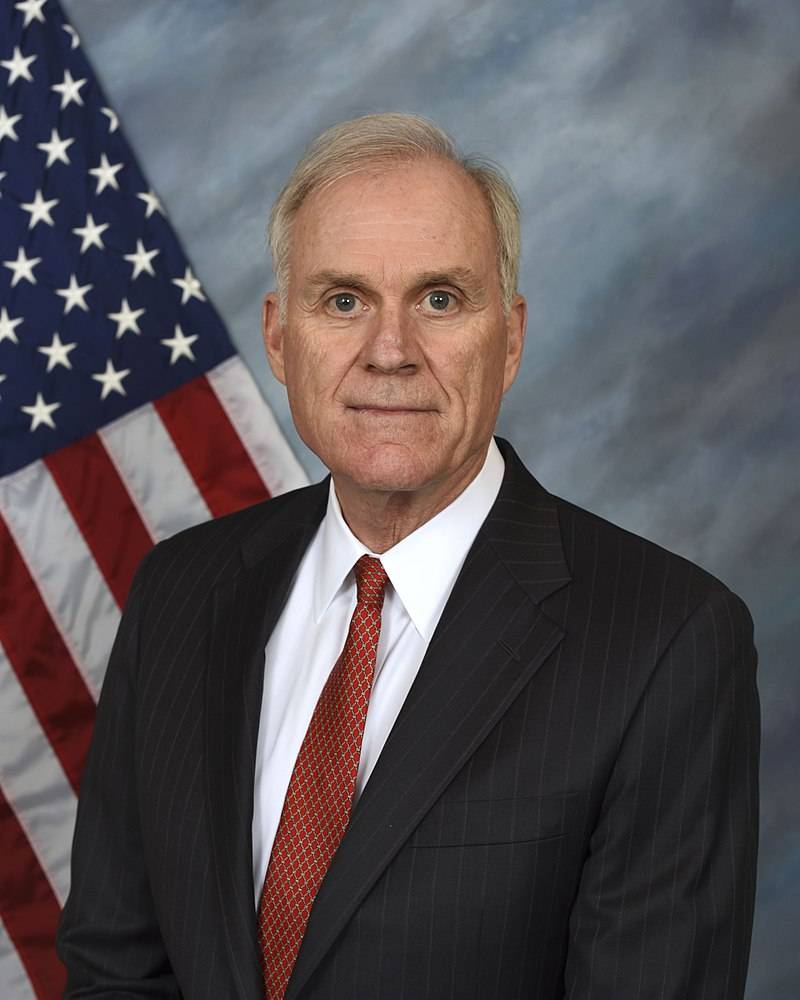 US Navy Secretary Richard Spencer
However, it was not possible to keep a secret for a long time.
Soon, anonymous sources in the Navy told reporters that the same person that Richard Spencer is talking about is Commander (in our opinion, 2 rank captain) Christopher Cervelo, former Admiral Richardson PR and PR adviser, and Actual spokeswoman for the United States Navy. Cervelo, taking advantage of his influence, committed several acts of what the United States calls sexual harassment in relation to several military personnel and civilian employees of the Pentagon. But there are some oddities in this matter.
The Chris Cervelo Case. Bad Santa Navy
16 December 2016 year at the Pentagon there was a Christmas party with alcohol. Christopher Cervelo, an 41-year-old public relations officer and adviser to the naval operations commander Richardson, also participated. Further was more or less detailed established by a special investigation.
In the office, where naval officers and civilian employees were located, there was a bar that was open for free "use" at 11.00 and remained so for six hours. Chris Cervelo four times (from his words) approached the bar and drank alcohol, including strong. Dressing up in Santa Claus, he slapped a civilian employee on the buttocks, without further developing it into any form of harassment, and then climbed with an "uncomfortable embrace" to a female officer younger than his rank, forcing her to push him away. The same female officer said during the investigation that earlier, two years before the incident, Cervelo invited her to dinner at a restaurant on the pretext of giving her "professional advice", which she refused.
Cervelo also touched her thigh, and at a party in a drunken state told her that he did not know how to behave with her correctly.
After the party, Cervelo and several lower-ranking officers, including female officers, went, perhaps drunk, to a restaurant where Cervelo abused alcohol together with younger officers, drank a young female officer, and then asked to go with one of female officers and escort her home. After the refusal, Cervelo on the whole eight times called one of the women on the phone and sent SMS messages.
You can take all this seriously or with laughter, but in the US Navy these are serious misconduct.
Several women attending the "party" wrote complaints. For a week, Cervelo's activities were monitored by a special investigative team led by US Navy captain Hudson, who eventually recommended that Cervelo be fired immediately. Hudson's final report was signed by him on December 21 of 2016 of the year.
Cervelo himself categorically denied all charges. He categorically denies them now. We are interested in the fact that he was not dismissed as a result of the investigation; moreover, he remained at his former post. A little later, however, the incident came to Congress and ended up with Democratic Senator (woman) Kirsten Gillibrand, who brought the incident to the level of scandal. As a result, Richardson dismissed Cervelo, but without any charges and retaining his military rank.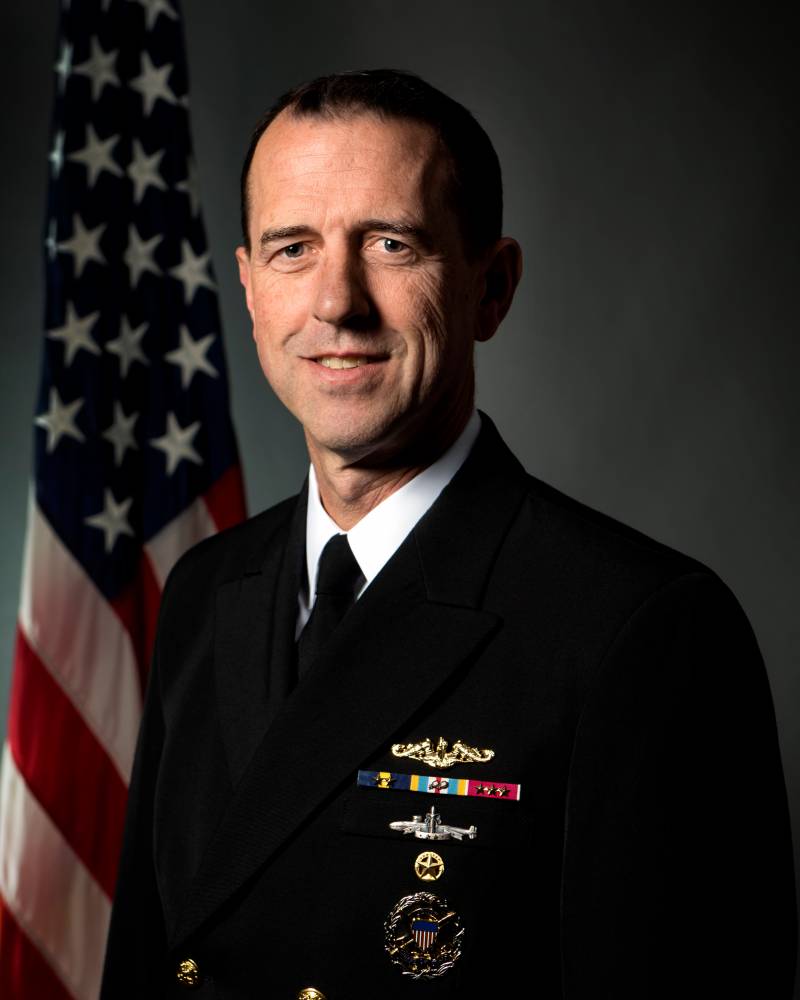 US Navy Commander Admiral John Richardson
By the middle of 2017, this
история
, in theory, should have ended.
Did Cervelo really do all this, or was he slandered? It doesn't matter, because we are interested in Moren.
What could be his "professional connection" with this officer? What could it be, why, without five minutes, the commander of all the US Navy with his own hands finished his career?
And here surprises come out.
Firstly, Cervelo continued to serve as Moran's public relations representative. But, in fact, this was his work, no one fired him for the time being, there is nothing strange in that Servelo continued to carry out his duties while in the service.
Secondly, Morin even at the time of the ill-fated "party" did not hold positions in which he would be responsible for the personnel of the Navy. Even the submission for the dismissal of Cervelo was not included at that moment either in his duties or in his powers.
So what happened?
Bulldogs under the carpet
Morin was to become the first pilot of the U.S. Navy base patrol aircraft, who rose to the top post in the Navy. Prior to this, fierce undercover battles between traditional applicants: deck-based pilots, officers of surface non-naval ships and submariners periodically went on for this post. Three of these clans literally tear each other to pieces in the Pentagon's cabinet battles for sharing resources, ranks, posts and budgets. Morin represented the entry into this "league" of basic aviation as well - a very numerous and important component of US naval power, the importance of which does not at all correspond to the scale of the representation of naval pilots in command structures.
It was logical to assume that the existing "clans" of the Navy did not want to allow anything like that. Next is a matter of technology. If those who did not want to see Admiral Moren at the top post of the Navy had "something" on him, then there was no problem forcing him to write a report on dismissal under the threat of the publication of this very "was". And everyone has a "had", you can't get up to four stars on epaulettes and not do things somewhere along the way, and you have to be perfect on the personal front in the USA, because even adultery for an officer is a war crime, followed by dismissal with service, no options. Maybe that's right, of course. But which of the people is perfect? And perhaps the "lever" with which Morin was faked was not connected precisely with his actions in the service. But Cervelo, to whom, frankly, Morin had no special relationship, turned out to be just an excuse. Strictly formal, even Richardson's dismissal due to this murky story would have looked more meaningful than what happened.
The idea that Admiral Moren's conscience could not stand the fact that he had previously communicated on working with a subordinate who had not shown himself negatively, but then, after Moren's transfer to another position, proved to be a bully and a "sexual predator" delirium. Especially considering that at the time of writing the report, Spencer Cervelo had already been fired for a year and a half.
But the list of remaining applicants for the post of CNO is extremely indicative. We bring him.
Admiral Christopher Grady. "The Submarine." Serves in one of the positions in the Command of the forces
fleet
USA in Norfolk.
Admiral John Akuilino, a pilot-decker, commander of the forces of the fleet in the Pacific Ocean.
These two are in priority, after taking off from the Morin race they are the main contenders.
Admiral James Foggo, a submarine commander of the U.S. Navy in Europe and Africa, and, if necessary, also the head of the Allied Navy command in Europe.
It will be harder. The replaced Richardson is also a submariner, and they are very unhappy with him. Nevertheless, Foggo has a good reputation, he is politically savvy, for example, he constantly mentions Russia. As a threat, of course. Congress will like it.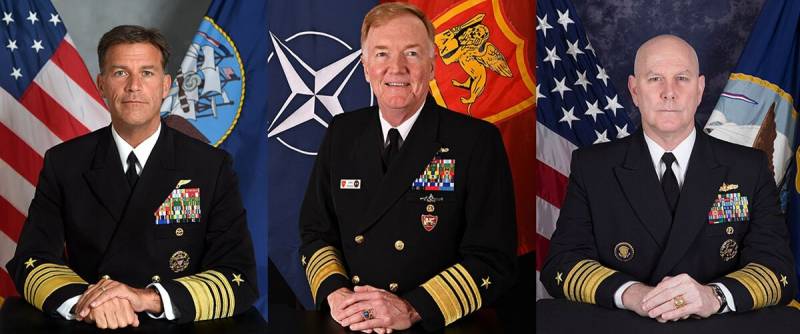 Candidates for commanders, from left to right, John Aquilino, James Foggo, Christopher Grady
But the person from the base aviation is now not in the list of applicants.
So they have "solved problems" there, in the USA. Who really takes the place of Richardson, who should have a "rest", will be clear, apparently, already this year. And it's just as clear that this person will be chosen during an undercover struggle of groups in the Navy, and nothing else.
However, there is another opinion.
Today, US forces are controlled by people whom no one has approved.
So, Mark Esper, acting Minister of Defense, still not approved by the Senate. Likewise, Joseph Dunford's successor to the post of chairman of the OKNS, Army General Mark Milli, is already preparing to take office, although the Senate has not even begun to consider his candidacy. And the same goes for Air Force General John Hayten, who is supposed to replace Paul Celwa, vice-chairman of the OKNS.
These problems reflect the way President Donald Trump conducts his personnel policy.
It is possible that the leapfrog associated with admirals in the US Navy is only a special case of a deeper managerial crisis in the US Armed Forces as a whole, which was the result of this personnel policy, regardless of what became its root cause: Trump's own approaches or his machinations Enemies on Capitol Hill.
And if so, then new scandals await us in the very near future. And not only in the Navy.