305 years ago, dramatic and at the same time heroic events unfolded at Cape Gangut. On 7 of August 1714 of the year, the question of a strategic nature for Russia was being decided: will the Russian state be able to get a full-fledged access to the Baltic Sea or will it be locked up by the Swedes, not having the opportunity either for active military operations at sea, or for conducting trade relations with European countries.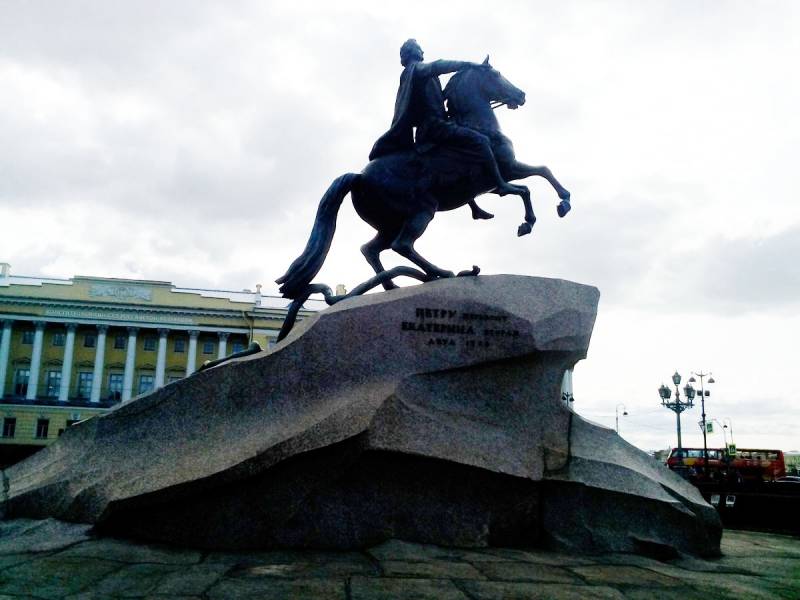 In the Gangut area, Russian rowing
the fleet
, consisting of about a hundred ships (mainly galleys) and auxiliary ships, the Swedish fleet with two bombing ships, three frigates, and 15 battleships 9-10 galleys opposed the Swedish fleet.
The Russian squadron under the command of Admiral Fyodor Apraksin gained an advantage over the Swedish Royal Sailing Fleet, thanks, as the KhPP would put it now. At that time, by KhPP one could understand "Peter's Tricky Plan", which actually decided on a distracting maneuver to transfer several galleys by dragging to the northern part of Gangut. The Swedes swallowed this bait, and part of their squadron, including the 18-gun flagship "Elephant", was sent to "deal" with the Russians in the north. It did not work out ...
Their negative role for the Swedes was played not only by the fact that they actually divided their fleet, but also by the fact that on August 6-7 almost completely reigned over this area of ​​the Baltic. Swedish sailing ships lost the opportunity not only to maneuver, but even to complete movement as such.
The squadron, commanded by the Swedish admiral Gustav Wattrang, was eventually forced to act in fact as observers of a catastrophic defeat of its own. Swedish sailboats were "chained" to the water calmly at the moment when the Russian galleys entered into business.
The commanders of the Russian squadron skillfully used Swedish miscalculations, in particular - they chose a coastal channel, not closed by the Swedes, for delivering a fatal blow for the Swedes. While the Swedish naval guns were waiting for the galley lines, they rounded the "cannon" threat and carried out several successful attacks. Some of these attacks made it possible to take several Swedish ships on board. Tsar Peter himself took a direct part in the boarding attack and the capture of Swedish ships. In the end, the Swedish flagship Elephant refused to fight.
Ultimately, the Russian fleet won the first in a new (at that time)
stories
at sea and made it possible for Russia to become a full-fledged player in the Baltic Sea, determining the development of the northwest for many years to come. And Admiral Wattrang, who commanded the Swedish squadron in 1714 in the year of Gangut, henceforth never again agreed to conduct military operations against the Russians. The official reason: "for health reasons."
In honor of the victory of the Russian sailors in Gangutsky, new Russia annually celebrates August 9 as the Day of Military Glory.