The Turkish president taught the latter a lesson during a meeting with his Ukrainian counterpart. During a joint briefing with the head of Turkey, Ukrainian President Vladimir Zelensky showed on his hand "club" bracelets that bear the names of sailors detained by Russian border guards during the famous Ukrainian provocation in the Kerch Strait last year.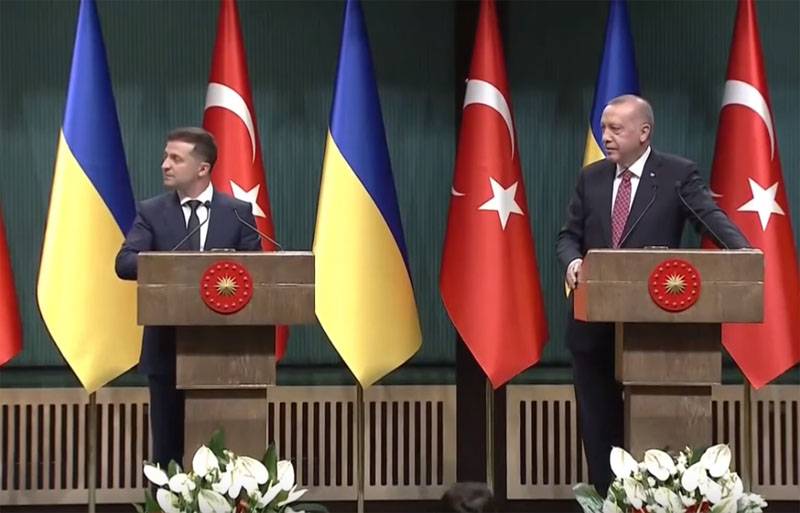 According to Zelensky, he received these bracelets from relatives of the "prisoners" of the Navy. Recall that they continue to consider them as "prisoners of war" in Kiev, what does Moscow react to with the question: did Ukraine nevertheless declare war on Russia?
The President of Ukraine during the briefing mentioned that he assured the relatives of the sailors that "he will not take off his bracelets until the sailors are returned home." At the same time, Zelensky recalled that he was "the guarantor of the Ukrainian constitution, which has a lot to do and thanks to the bracelets for a second does not forget about the Ukrainian sailors" from "Berdyansk", "Nikopol" and "Yana Kapu".
Erdogan, after listening to Zelensky's speech, noted that "if you wear bracelets for any reason, then you don't have enough space on your hands", making it clear that if Ukraine allows itself provocations that violate state borders, then new bracelets may appear.
According to Erdogan, in different regions of the world there are problems: not only in the Kerch Strait, but also in Palestine, Myanmar, etc.
At the same time, Ukrainian translators did not immediately realize how to translate Erdogan's response to Zelensky's statement. Initially, the translator, stammering, completely betrayed what Erdogan did not say. I had to join another translator. In this regard, a certain pause arose. At the same time, the Ukrainian delegation was clearly tensed after the words of the Turkish president.