In Kyrgyzstan, an operation began to detain the former president of the republic, Almazbek Atambayev. Police officers and special forces conduct an operation in the village of Koy-Tash. This was reported by the media with reference to the press service of the ex-president.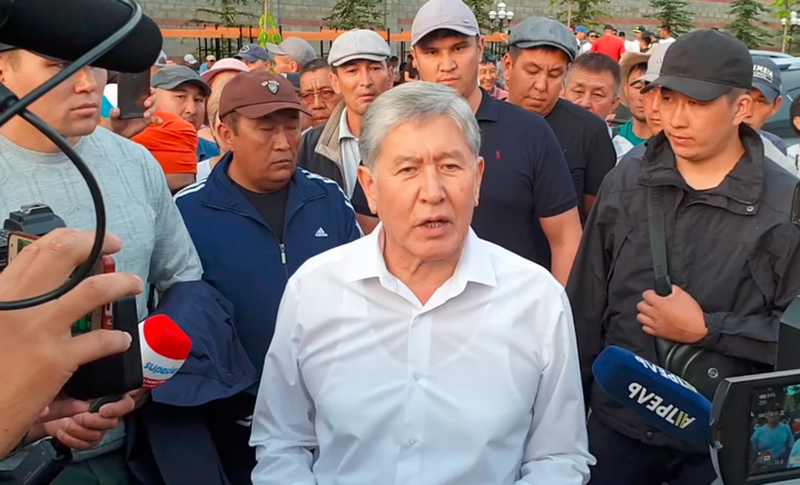 According to the adviser to the former head of state, Kunduz Zholdubaeva, police and special forces are trying to storm the Atambaev's house in the village of Koy-Tash in the Chui region, but supporters of the ex-president interfere with them. Stones and sticks fly into the siloviki, in response, they are shooting with rubber bullets, special means are used, light-noise grenades, a helicopter circling over the house.
Police officers began an operation to seize the ex-president. Several people were injured with rubber bullets, who are trying to prevent the special forces from detaining Atambayev. One journalist among the wounded
- stated at the headquarters of the ex-president.
Reportedly, the reason for the arrest of Atambaev was the refusal to appear three times as a witness in one of the cases brought against him. According to the law, a person who has ignored a call three times can be forcibly taken to the police.
Former Kyrgyz President Almazbek Atambayev has been accused of several crimes related to corruption and criminal connections. The list of crimes was prepared by the Kyrgyz parliament and submitted to the prosecutor's office, and on June 27 Atambayev was deprived of parliamentary immunity. The ex-president himself called all the cases brought against him "nonsense" and political persecution by the current government, with which he has great disagreements.
Recall that Atambayev, who led Kyrgyzstan from 2011 to 2017 for the year, is the only president of Kyrgyzstan to take this post at the end of the popular elections and voluntarily leave him after the deadline.
According to Atambayev's headquarters, security officials still managed to detain the ex-president. According to a Sputnik correspondent. leading a report from the scene, burning tires, an abandoned car, stones lie on the track near Atambayev's house. A tree fell on the road. Shooting is heard, stun grenades explode. Civilians break surveillance cameras that are installed around the house. Local residents want to storm the house, where armed people in uniform took refuge.