The Turkish Ministry of Defense has received from the United States the last batch of American transport helicopters CH-47F Chinook. Four helicopters were delivered by sea from the US to the Turkish port of Izmir, TsAMTO reports.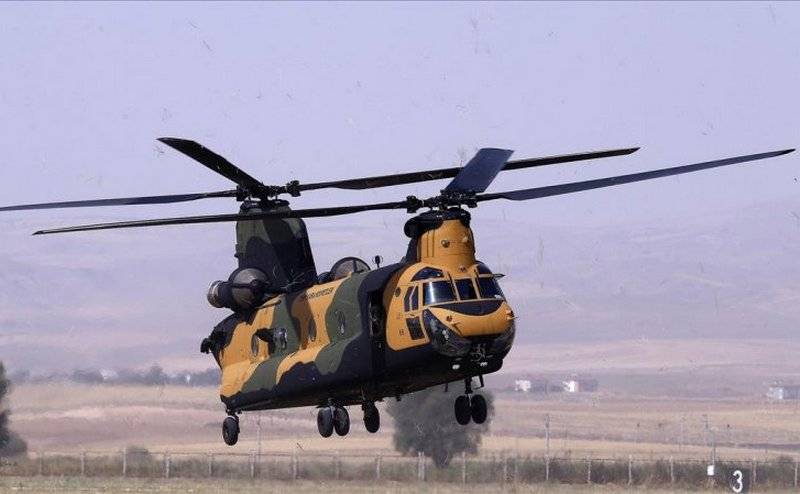 military transport helicopter CH-47F "Chinook", Turkish Armed Forces
The USA delivered to Turkey the last batch of four CH-47F Chinook military transport helicopters, thereby delivering to the customer all 11 helicopters within the framework of the agreement concluded between the countries.
As previously reported, Turkey requested the United States to supply 14 Chinook helicopters as early as 2009 as part of the Foreign Military Sales program. The deal was valued at 1,2 billion dollars. In addition to helicopters, the supply should include related equipment and maintenance services. However, in the middle of the 2010 year, Turkey, due to the lack of sufficient funds, reduced the order to 11 machines. In the same 2010, the US Congress approved the sale of CH-47F Chinook helicopters to the Turkish military.
The construction of a batch of rotorcraft for Turkey began in the 2011 year. The delivery of helicopters was carried out under two contracts: according to the first, Turkey received 6 helicopters from July to the end of the 2016 year, according to the second one helicopter was delivered 25 on August 2018 of the year, and another four 31 on July.
According to the Turkish Ministry of Defense, six CH-47F Chinook helicopters were delivered in the interests of the Ground Forces, four for the Special Operations Forces (MTR) and one will be used by the Ministry of Defense to transport VIPs.
Turkey became the 19-th country that adopted the US Chinook helicopters into service.