The other day, a new contender for the post of US Secretary of Defense, Mr. Mark Esper, held the candidate's hearing in the Senate, more precisely, in the subcommittee on military affairs, where he was asked various questions and answered them. So what did he say on a number of important points in the field of strategic stability? And what kind of person is this Esper?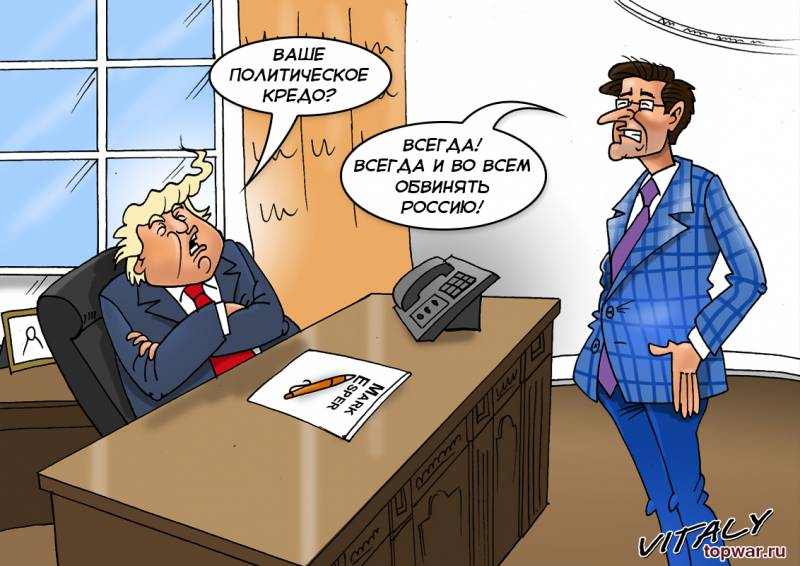 Who is Mark Esper
First, about who Mark Esper himself is. He studied at the military academy of West Point, and many in the US Armed Forces consider her to be a "forge of blockheads", and of the blockheads that are quickly promoted, because the institution is the most prestigious. Many who were considered Washington "their sons of a bitch", Latin American caudillos and African dictators, even though they indulged in mass executions or, say, cannibalism of political opponents, ended up just West Point. Esper is also finished, and with distinction. And Esper's schoolmate was there future Secretary of State Mike Pompeo. Which, obviously, and advised this candidacy to Trump and in due time for the post of minister of the army, and now, for the post of minister of defense.
Esper fell to serve in the 101 th air assault division and took part in the military campaign against Iraq in 1991. Then he transferred to the National Guard and then to the Army Reserve, where he retired to the rank of lieutenant colonel. After that, he graduated from John F. Kennedy School of Government at Harvard University, and, as they say, "hit the stream." He worked at the Heritage Foundation, a neoconservative think tank, from there he went to the Senate, where he worked in international affairs and government affairs committees, and as an advisor to Senator Chuck Hagel. Also, by the way, a war veteran, only in Vietnam, and, perhaps, an influential senator liked the native of the military environment and with military awards, like himself.
From there, under the auspices of the Senate "neocons", he got into the Bush administration, where he worked in the US DoD on negotiation policies, including nuclear weapons (at that time the Offensive Potential Reduction Treaty was being drafted) ). Then he returned to the Senate, and from there he jumped into the Aerospace Industry Association, and then took part in the unsuccessful electoral presidential campaign of Senator Fred Thompson in 2003. And in 2008, the person who has connections in both the Capitol and the White House was spotted in Raytheon Corporation, where he was taken by the Vice President for Government Relations. That is, as a "pusher-lobbyist" in an official capacity. In Raytheon, he worked until his appointment as minister (secretary) of the US Army, where he was engaged in the supply of land forces and procurement of weapons as well. It is easy to guess in whose favor. And now he is tipped to the ministers of defense. Well, Trump changes the lobbyist of "Boeing" of Shanahan to the lobbyist of Raytheon. By the way, unlike Shanahan, Esper was not even under investigation on suspicion of providing services to a former employer. True, they did not dig for Shanakhan (because the patrons were serious, and not because there was nothing), and Esper was even more agile - and did not fall under suspicion. However, Shanahan was brought in by family affairs and sins, therefore the candidature of Mark Esper is now being considered for that chair, where he served as Shanahan for several months.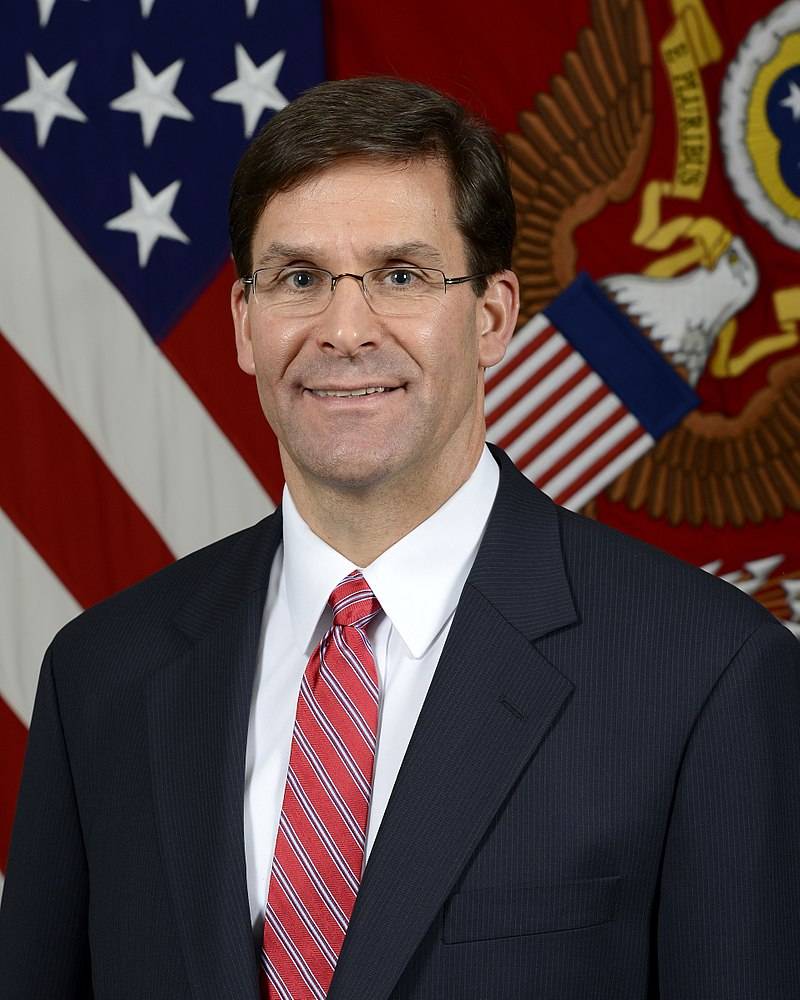 When Russia is worried
The document containing the answers of candidate Esper to the senators' questions consists of 117 text pages. Most of the questions are, in general, routine and boring, such as "where he was born, whom he married, why I pretend to the position and what is good", or they are of little interest to us, for example, there were questions about the AFRICOM US Army (African Command) or something else in this spirit. But it is interesting that he used the word "Russia" among the other countries as much as 110 times, whereas "China" - only 74 times, and "scary and unpredictable" Iran and North Korea, respectively, 33 and 14 times. It is clear, of course, why Russia, as the largest nuclear superpower, is most concerned about Esper. Although it is not very clear why a non-nuclear Iran is worried about it more than the nuclear power of the DPRK, which not only has the potential to launch a nuclear strike on any point in the United States, but also has very powerful conventional forces. True, at the same time, Mr. Esper contradicted himself and common sense. In March, he said so in an interview with CNBC (the very one, whose journalists amuse the venerable public with finger-sucked insights like imported carbon plastics on Avangard and other nonsense):
"I think that the biggest problem is North Korea. And if you look at the long-term, 2025 – 2035 years, then Russia. However, the greatest difficulty is, of course, China from 2035 onwards. I mean the scale of the country, its economy and everything else; China is a strategic adversary for both the Ministry of Defense and the country as a whole! "
What worried him so much about the DPRK, which, by and large, doesn't care about what is happening outside its region is hard to say. As well as it is difficult to explain why Esper believed that it was not Russia, which, by 2035, would complete the re-equipment of the "new technological revolution", and China would be more dangerous. But now Mark Esper "saw the light of truth", and now Russia bothers him much more. It is clear that Russia should be more worried about the United States, but it is necessary to take into account the fact that Esperu must be sufficiently Russophobic in order to make a proper impression on the Senate "hawks." Because the Russophobic campaign, inflamed by the States, infects even those who organize it, and many do not need to infect. Senator McCain's "Hero of Ukraine" is gone, but the same is in the Capitol. It is necessary, in general, to comply, but they will not approve.
Sad old songs about the main thing. Instead of work
Russia, according to Esper, is the main strategic opponent and rival of the United States, not only in Europe or Eurasia, but also in Africa, Latin America, the Arctic, outer space and even cyberspace. In the latter, the United States allegedly even conduct a "war" with Russia. It is very convenient to talk about "cyberwar", because it is impossible to verify all these statements, as well as those that are written off to fierce battles on the cyberfront line. Allegedly, Russia along with China is "attacking" the United States in cyberspace, "stealing technology" and "interfering in elections", which he, the future minister, intends to resist. No, the secrets of others are sacred, and everyone is engaged in "interested" in the success of competitors, but the fight against the mythical "interference in the elections", in general, competes with no less legendary struggle with the "Skripale" poisoners. At the same time, he "is confident that the election of 2020 will be held without problems." Of course, because he knows that no one interfered in anything.
Esper promises to confront Russia everywhere, at least in words. And the main means of deterring "Russian aggression" he called nuclear
weapon
along with the usual and allied actions. At the same time, he considers it necessary to cooperate with Russia in the fight against terrorism, and not only that. Nor does he deny the arms control agreements, although he is considered their adversary. But he understands them, judging by his answers, in a peculiar way. He believes that "the time has come to cover the entire Russian nuclear arsenal with arms control agreements." This, of course, is about the same dismal serenade under the Russian balcony, where American caballeros are plaintively and compassionately asking for an agreement on tactical (non-strategic) nuclear weapons completely unnecessary for Russia (TNW / NSNW). Esper said that only the "active" (combat-ready) arsenal of the Russian tactical nuclear weapons is about 2 thousand of ammunition (there are other Pentagon assessments, for example, "more than 2,5 thousand", and it's impossible to draw a line between neither the total number nor their status is known). And Russia is actively "modernizing and expanding it." This is certainly true, but Russia has long and clearly made it clear that it is not interested in either disclosing the size of the tactical nuclear weapons arsenal, or reducing it further or including it in arms control agreements. And why, if the American arsenal of these weapons is only about half a thousand bombs? The exchange is unequal, and even the INF Treaty with its ratios on liquidated ammunition would seem to be the height of justice.
Esper complained about this, they say, "unfortunately, Russia responded with a refusal to past US efforts to reduce TNW," but, they say, since the Senate and the Trump administration demand that this be in the new treaties, it will work in this direction. But in the START-3 Treaty, expiring in 2021, there is no mention of TNW, and attempts to replace this agreement with others, and even include China in this Treaty, will simply lead to non-renewal of START-3 and the end of any basic agreements on control in areas of strategic stability. Everything will have to start over or not start at all. But boltology around China and its inclusion in the Nuclear Weapons Treaty of superpowers is even more ridiculous, since China itself has once again declared once again that it is not interested in this agreement, and Russia declared the same. In this case, the question of England and France and their arsenals cost, as usual.
And Esper called the Chinese nuclear arsenal "fast-growing", and this is a direct lie. Chinese nuclear arsenals do not have a tendency to grow rapidly. There is some growth, but it is extremely small. But, apparently, in Washington, they want not only to strengthen the military-political marriages of Beijing and Moscow with their anti-Chinese actions, but also to push the PRC to more actively increase their strategic nuclear forces ... Or they just want to waste time, engaging in knowingly uninteresting others in the negotiations with Moscow side of the requirements, and then shrug when START-3 will not be extended. And what will it give to America, except for additional problems? The United States is now not in a position to join the arms race in the nuclear field, and this is not a secret even for congressmen and senators - the results of the senate investigation, which indicates that the United States doesn't have about a dozen critical technologies, should be known there. To understand such a "masochism" in the field of strategic stability is difficult. On the contrary, Americans must hold on to nuclear weapons treaties.
Instead, we have what we have. At the same time, Esper repeated the duty mantras about the INF Treaty, which, they say, would "persuade Moscow to return to its execution" and "destroy the long-range XRHP 9М729". Too late to convince, doing nothing to eliminate their violations, Mr. Esper!
In general, if at the consultations begun recently in Geneva there will be just such an approach to solving problems with the extension of START-3, then Russia can now slowly be prepared to implement long-established measures to develop its strategic nuclear forces in the absence of contractual restrictions. But, perhaps, the Americans, having broken, and realizing that it's impossible to "get out" Moscow, will take a constructive tone and get busy. The statement of the Russian Foreign Ministry about the first consultations contains hints of a "constructive approach", let's hope that this is not just a figure of speech. But the fact that Esper is not the best candidate for negotiations with Russia on contractual issues is obvious. True, I must say that it is not the Minister of Defense who determines the policy, but he can have some influence on the situation.