Constitution "usurper"
Every nation lives as its constitution allows it to live. If we accept this point of view, it becomes immediately clear why we live so, to put it mildly, uneasy: having voted in a referendum in 1993 for the "constitution of the usurper", we fully paid for our own levity, gullibility, stupidity. Although…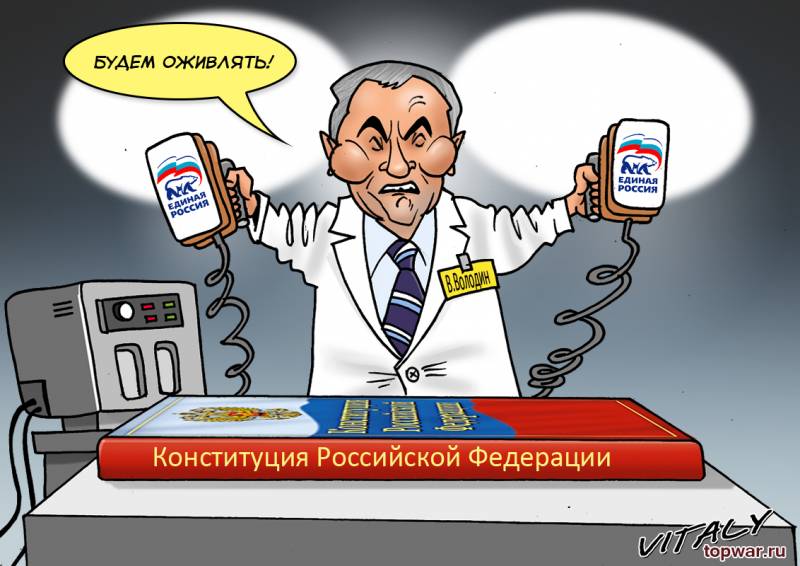 It is still not entirely clear whether it is full. The constitution adopted at that time, despite all its obvious imbalances and abuses, still remains our basic law. Moreover, in a quarter of a century or more, it has undergone almost no changes: it is likely that its creators and their ideological heirs consider it a really good tool. Why change something good? That's it…
By the way, in some ways they are certainly right. If we accept the idea that the current Constitution of the Russian Federation was created not for the state to function well, but for the people to live with dignity, but only for the purpose of retaining power by a certain circle of people, then it is better to find something than our "highest regulatory legal act" pretty hard. Our president is both the guarantor of this constitution, the chief official, the commander-in-chief, and the government removes-appoints, and in general is not just the main thing, but the only actor in Russian politics. It has become ridiculous - even the president can be removed from the post of minister or general, and the immediate superiors of negligent (or retiring) subordinates are deprived of this opportunity.
Although, perhaps, they are not deprived, but they prefer not to take on much self-reliance. And if it goes on like this, soon the president, by his decrees, will appoint even householders and district police officers. Well, why not, really? The constitution allows ...
Does the Kremlin understand that this model of governance is flawed and simply dangerous for the future of the country? Probably understand, not so stupid people there. Still, the process of reforming the constitution will not get off the ground, it's very convenient in its current form to ensure our favorite stability. And if the question of amending the Yeltsin constitution arises, it is only in connection with the future (and many expected) "transfer" of power.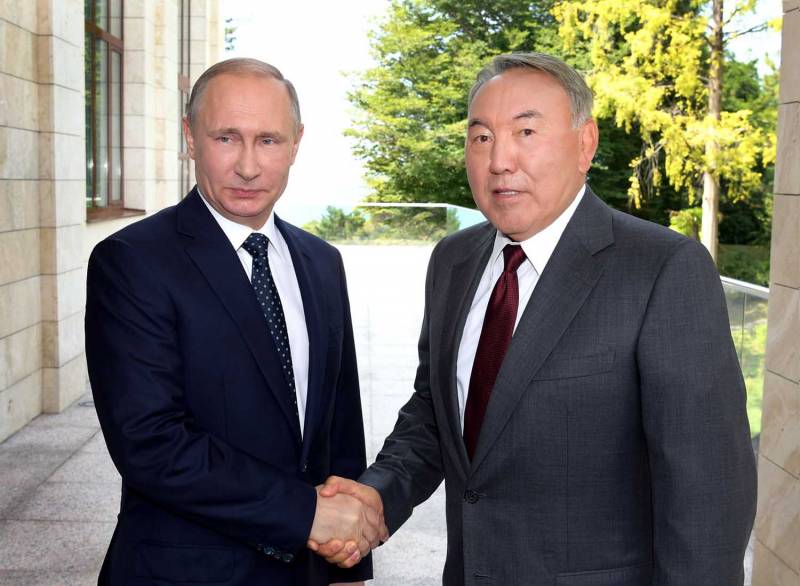 Constitution 2.0?
Here and again, for the umpteenth time, there have been injections in the network about the forthcoming constitutional reform. In particular, the telegram channel "Nezgar", considered one of the most informed sources in terms of all sorts of "insiders", recently threw food for thought. According to the source, several power transfer scenarios are being prepared in Russia at once, each of which involves including making certain changes to the current constitution.
It is reported that State Duma Speaker Vladislav Volodin is one of the lobbyists for constitutional reform, which in itself is quite anecdotal. But we are not in a hurry to smile and laugh all the more: given the experience we have, it is obvious that Putin will propose a weak, initiative-less, passive figure, in principle incapable of taking any independent steps, for the post of his successor. Once it was Dmitry Medvedev, and the experience can be considered successful. Volodin is clearly from the cohort of people who are not capable of coups d'état, so why not? Nominal position, nominal figure in this position ...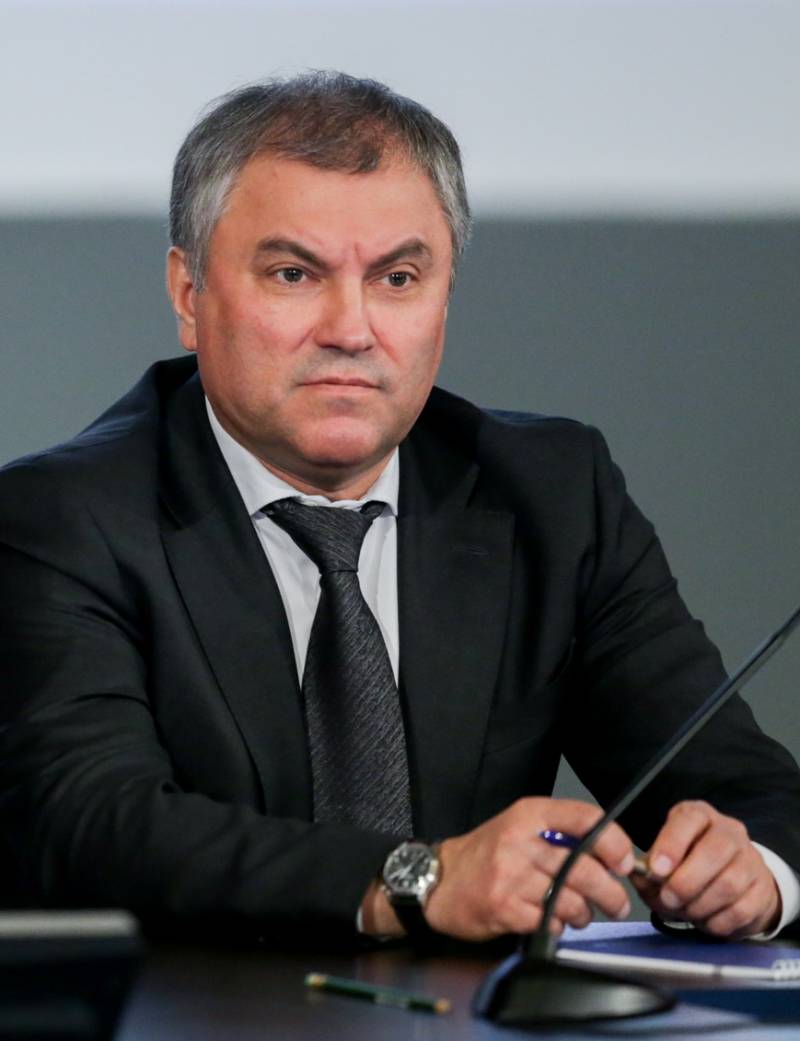 It is assumed that a peculiar hybrid of the Soviet and German political systems can be taken as a basis. In particular, they will reject the Soviet rejection of elections on party lists for the sake of elections in the majority districts. A general concept of "a strong parliament - a strong government - a powerless president" will be taken from the German one.
Such an option seems somewhat controversial, since the very certainty that there is some kind of "strong government" in Germany (or the chancellor, whoever is more comfortable) is wrong: the chancellor in Germany is strong, while the coalition that has chosen him is strong. A defeat in an election or just a quarrel between coalition members can easily end with a change of chancellor, and he can't prevent it. Another thing is that the Germans themselves do not like self-indulgence and every year they are not satisfied with re-elections (this is not the Italians of the eighties), but this is a factor that is hard to count, there is little hope for us in this sense.
It is also not yet clear whether the reform will affect only what is directly related to the issue of transfer of power, or will be broader. Will there be new government bodies like the State Council? And if they do, what will be their place in the model of public administration?
In part, it would be possible to answer this question if we knew the answer to the most crucial question: what, in fact, does Putin himself want from the transfer?
Actually, there are only two options: either he wants to retain full power in the country, simply transfer to another chair, or he just wants to calmly, "holding his hand on the pulse", having the maximum guarantees of immunity, sit in a solid chair for the rest of his life. That is, to put it in simple terms: will Putin remain Putin or will he turn into a "elbasy"?
But even the second option still implies that the current president has more authority in the future. Because otherwise, no matter how honorable his position may be, no one will give him any guarantees of immunity. And this, as we understand, is very critical ...
All we have, except ...
Of course, any progress in reforming our constitution can be considered useful in advance. Nevertheless, it is of fundamental importance what motives were in the development and adoption of certain constitutional norms. If it is again a question of retaining personal power, as in 1993, the result is very likely to be just as sad.
And so I would like to see in the country a normal, strong parliamentarism, a responsible government, effective, but correct siloviki! And if it's very scary to immediately give power to our parliamentarians, can you, as an experiment, be given a little more authority at least to regional parliaments? And there, taking into account the results obtained, it would be possible to gradually extend this experience to the whole country.
Of course, to many this promise will seem controversial: well, they will give power to parliament, so what? But just imagine: the government is not sitting for many years, showing a zero result, and after a year or two of such work gets a kick in the ass and goes to unload the cars. Corruption, which has long become one of the main problems of the country, is beginning to shrink, because it is easy to "buy" one official or prosecutor, but try "financially interested" three or four hundred deputies competing for the right and continue to occupy a warm place in the State Duma .
It is clear that all this is not a panacea. Still, it would be gratifying to observe the process of recovery itself, of setting up the work of our huge and potentially incredibly powerful state organism.
It so happened that through the efforts of our ancestors we got a huge country in which there is almost everything that is needed for a good life. We also have a hardworking, educated people, and a scientific and technological reserve that will allow another twenty or thirty years to develop and grow. There is only one thing: good governance. But it is not surprising - well, where could he get from our
history
and such a constitution?
But if history does not have to be rewritten and you have to live with it forever, then creating a normal constitution is more or less achievable.
Therefore, any message about a possible constitutional reform I meet with timid hope. Maybe these guys will accidentally make a couple of good changes to our basic law?
Unfortunately, I have almost no other hopes left.