Russia will render NATO and the US Navy a tremendous service if, instead of building new nuclear submarines such as Yasen or small rocket ships, they will continue to invest heavily in repairing their only aircraft carrier Admiral Kuznetsov. This opinion was expressed by the expert of the United States Naval Institute Richard Moss and the commander of the US Navy Ryan West.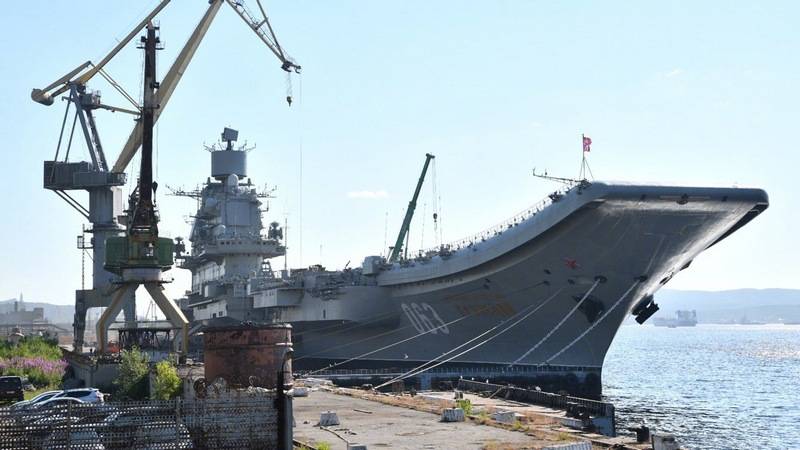 The authors of an article published in the journal
US Naval Institute
, they believe that Russia, instead of repairing its only aircraft carrier, needs to start building new nuclear submarines of the 885 Yasen project or building small rocket ships. Permanent repair of a ship, which in some measure is a legacy of the Cold War, forces Russia to spend enormous sums on it that could be spent on other projects.
Russia will render NATO and the US Navy an enormous service if it decides to spend the money, time and human capital necessary for the overhaul of an aircraft carrier that is clearly a burden to the cold war era
- write the authors of the article.
According to Richard Moss, the protracted repair and restoration of Admiral Kuznetsov is not due to the real needs of the Russian
fleet
in this aircraft carrier, and is a matter of national prestige. The ship has never had such military value as nuclear submarines or several high-speed intermarines. From the point of view of usefulness, the Admiral Kuznetsov is now a huge problem, not fitting into Russia's naval strategy. Throughout its existence, he never fulfilled his original mission, while remaining very expensive to maintain.
The only Russian aircraft carrier has never been a "reliable platform and has never been used with" proper efficiency "due to problems with the propulsion system, hull and aero-finisher. Continuing to invest heavily in the repair of this ship, Russia is doing a great service to NATO and the US Navy.
- sum up the American experts.