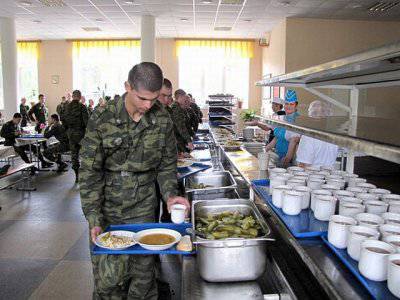 Many have already heard about army outsourcing. This is the use of the labor of civilian specialists who perform for the military personnel those types of work that are not compatible with military affairs. For example, outsourcing in modern military units means putting things in order, washing clothes, preparing food, and running a part-time farm with the help of civilian personnel. Someone thinks this practice is correct, because the soldiers now "will be engaged in the business, not scrubbing floors and toilets, while others see in outsourcing a virus introduced from the West that affects the Russian army from the inside and makes it a greenhouse. Critics of army outsourcing claim that the army in Russia is needed, not to just teach soldiers to use
weapon
but also in order to make a man out of a young man who can stand up for himself, for others, cook dinner and wash the floors.
Supporters of the outsourcing take the position that household chores rob soldiers of too much time allotted for real military affairs, and due to the reduction of service to 12 months, such a loss of time is fraught with negative results. Proponents say that there should also be comfort in the army: it's time to turn the barracks into a place where a soldier would feel, if not at home, then at least not experience a significant negative. These same people are sure that soldiers should sleep on the sleeping places in the winter.
electric towels
, fighters need to be changed into a beautiful modern uniform and change into comfortable shoes that would replace the notorious kersey boots.
The arguments of each side cannot be ignored, which is why it is worth developing an approach so that the service becomes both comfortable and at the same time does not turn into a kindergarten. Of course, it is foolish to argue with the fact that the modern army needs as badly as modern high-quality clothing, household appliances, balanced nutrition, as well as military-technical samples. Therefore, army outsourcing will only be a blessing for Russia, when it ceases to be aimed at weathering out of the army service those principles that at all times allowed us to see in our army support for public life. Otherwise, the case may come to the fact that their relatives, who are on duty at the bed of their fighter, will make their beds for the soldiers.