Developed for the Ministry of Defense, the world's heaviest multi-purpose transport helicopter Mi-26Т2В will also receive the Arctic version. This was stated by Andrei Boginsky, Director General of the Russian Helicopters holding.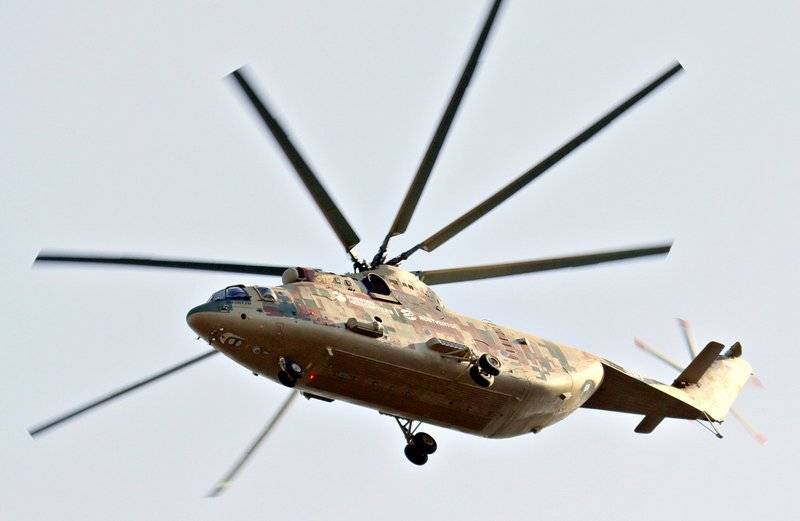 According to Bohinsky, the holding is developing the arctic version of the multipurpose transport helicopter Mi-26Т2В in the interests of the Russian Ministry of Defense. At present, experimental design work on this topic is being prepared, the first prototype model of the helicopter performed by the Arctic will appear in two years.
Working design documentation for the creation of the Mi-26Т2BA performed by the "Arctic" has not yet been completed, but the approximate terms of work have already been determined - it will take about two years to produce the first prototype
- told the general director, adding that the technical appearance of the Arctic version of the helicopter has already been formed and approved with the Russian Aerospace Force, and approval is underway with the Russian Navy. Currently, the holding is waiting for the Ministry of Defense tactical and technical tasks to begin work.
According to Bohinsky, since the main region of operation of the Mi-26Т2В "Arctic" will become the coastal zone of the Arctic seas, the machine will receive a warmed fuselage, additional emergency and rescue equipment, special equipment for cooking and heating up food. For pilots, the creation of special suits for which I adapt the helicopter cabin is provided.
As previously reported, the first flight of the upgraded Mi-26Т2В helicopter took place in August 2018, and the preliminary tests, which confirmed the characteristics embedded in the car, were completed in January of this year. Serial shipments to the military are scheduled to begin this year. The Ministry of Defense plans to buy the first batch of Mi-26Т2В from 10 machines.
The Mi-26Т2В differs from the basic model of the Mi-26 by the presence of an integrated avionics complex that can automatically perform en-route flight, exit to a predetermined point, approach, and also preplane maneuver and return to the main or alternate aerodromes. In addition, the helicopter is equipped with a digital aerobatic complex, an onboard defense complex "Vitebsk".
With a maximum take-off weight of up to 56 and a helicopter, the helicopter can lift into the air 20 and cargo, both inside the cabin and on the external sling.