Factory newspaper
"Forward!"
The Baltic shipbuilding plant "Yantar", on which 23 of April of this year, hosted the laying of two new large landing ships of the 11711 project, published on its pages a projection of the BNC 2 series under construction.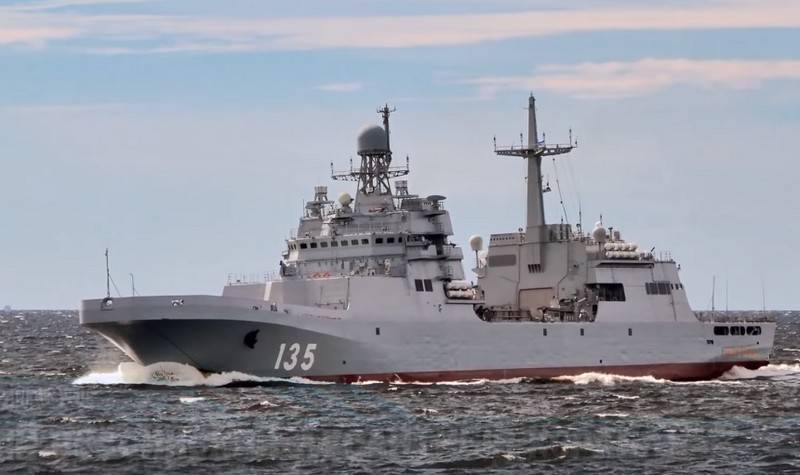 According to the factory edition, the new BDK, which is planned to be handed over to the customer in 2023-2024, may differ from those shown in the picture. The reason for this was that the ships "Vasily Trushin" and "Vladimir Andreev" were laid before the final approval of the revised project 11711 for the construction of the second series BDK. At present, due to the lack of technical documentation on the hull on the CVD "Yantar", they cannot start cutting the metal to form the hulls of the ships, although all the preparatory work has already been done. However, the company is confident that the Neva PKB, which is the designer of the BDK, will provide the plant with high-quality documentation, which will allow to meet the "very, very tough (quote from the newspaper" Forward! ") The construction time of ships.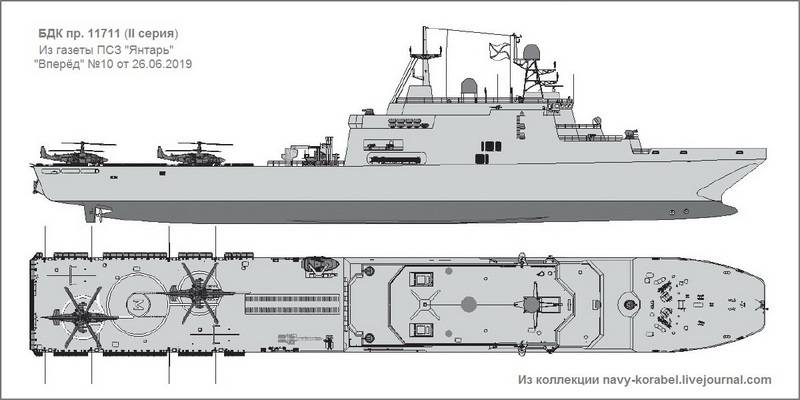 Many military experts and bloggers who write on the naval subject drew attention to the projection of the new BDK. As NAVY_KORABEL writes in his blog, in the hangar of the second BDK of the second series, four Ka-52K and Ka-29 helicopters will fit (the BDK of the first series, Ivan Gren, has only two helicopters). or Ka-52, or one more dimensional helicopter of the Mi-29 type (a circle with the letter "M", as on the "Kuznetsov"). The author also draws attention to the deck deck (on the projection is an elongated rectangle with two tracks for the tracks and wheels at once behind the hangar), which allows you to take trubonetehn Iku on the landing deck. However, in the final form on the BDK some changes are possible.
What's next?
Meanwhile, there was information that due to the insufficient number of new construction BDKs of project 11711, which are planned to be included in the composition by 2024
fleet
a total of four pieces, and a significant obsolescence of amphibious assault ships of earlier projects, it was decided to launch a modernization program for the BDK project 775 of Polish construction.
According to Mil.Press FlotProm with reference to two well-informed industry sources, it was decided to extend the life of the BNC 775 project by another ten years. According to available information, a program has been developed for importing outdated foreign-made mechanisms. The 51 Central Design and Technology Institute of ship repair is engaged in this problem, which provides repair of foreign-made ships and vessels built in the Russian Navy.
The Russian Navy said that the extension of the life of the BDK Polish built, is the only way to save the landing forces of the fleet. Currently, the Russian Navy has 15 amphibious ships built in Gdansk from 1974 to 1985 in Polish.