The head of Ingushetia, Yunus-Bek Yevkurov, is going to leave his post ahead of schedule and resign. He told about this on the air of the National Television and Radio Company of the Republic.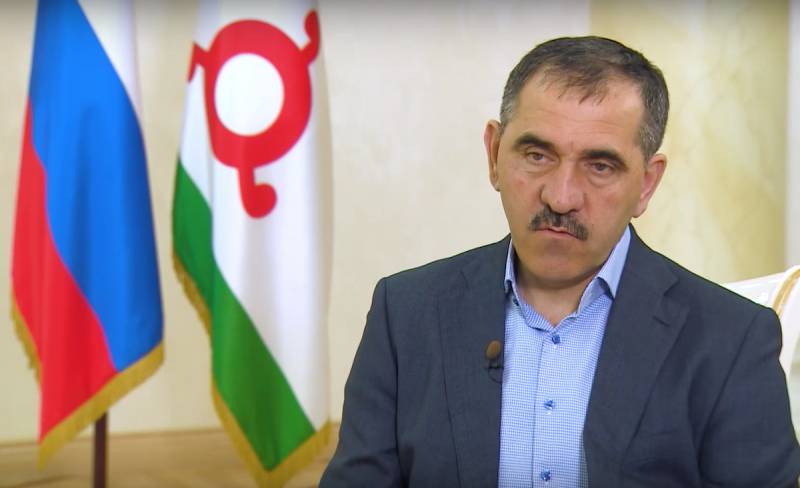 Yunus-Bek Yevkurov, who had been the head of the Ingushetia Republic since 2008 (he replaced Murat Zyazikov), decided to apply for early resignation to Russian President Vladimir Putin.
I made my choice. As an Ingush, as a patriot, as a military officer who gave an oath to defend the Motherland, I decided to appeal to the President of the Russian Federation Vladimir Vladimirovich Putin with a request for the early resignation of my powers as head of the republic.
- RIA news agency quotes his words
News
.
The reason for the desire to resign Yunus-Bek Yevkurov, whose powers expire in 2023 year, called the disunity of society, the blame for this religious and public organizations, as well as the power he represents. He also explained that it is necessary to make a choice between the interests of their own, and the interests of the republic.
One of his main achievements Yevkurov called the victory over terrorism in the republic.
Yunus-Bek Yevkurov - Major General in the balance, he served in the airborne troops. He gained fame as one of the leaders of the operation to take control of Slatina Airport, also known as "Throw at Pristina". Hero of Russia.
September 26 The heads of Ingushetia and Chechnya signed an agreement on the exchange of land in the border areas. October 2018 Yevkurov signed a law on the new border with Chechnya, which caused mass protests among the population of the republic.
October 30 The Ingush Constitutional Court overturned this agreement: Yunus-Bek Yevkurov refused to recognize this decision. October 31 residents of the republic stopped the protests, but they resumed in the spring of 2019 after the decisions of the Ingushetia Constitutional Court were revoked by the Constitutional Court of Russia. In early April, a number of leaders of the protests were detained.