Published a video of a bomb attack KAB-1500LG on building militants. The blow was struck by the Su-34 fighter-bomber.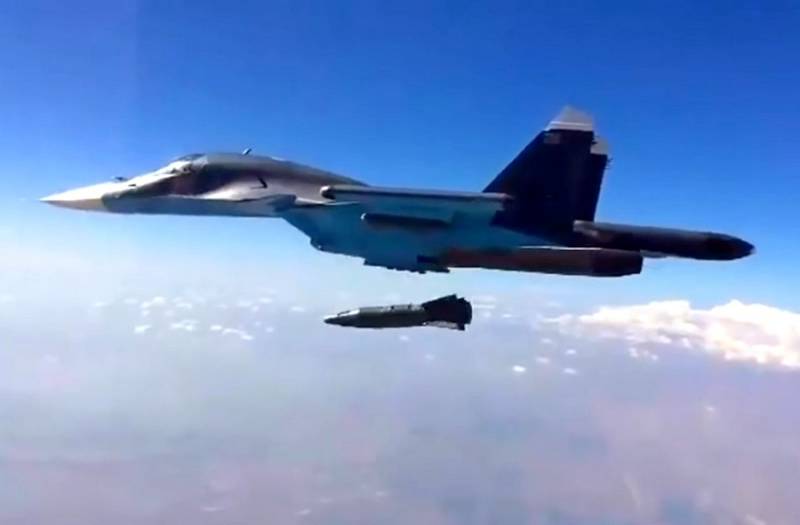 A video appeared on the Internet that shows the use of the KAB-1500LG concrete-breaking bomb in combat conditions. The footage published today shows how militants gathered on the parade-ground notice either a plane or a bomb and try to hide in a bunker, but the blow falls directly on it.
KAB-1500LG is Russian
aviation
a bomb that is equipped with a laser / gyro-stabilized homing head and is capable of piercing up to three meters of reinforced concrete structures or up to 20 meters of land.
Accuracy of hit when dropped from a height of up to 8 km is 4 m. The main carriers of CAB-1500ЛГ are Su-24М, Su-34 and Su-35 aircraft.
Aerodynamic scheme of the bomb - "tailless". Biplane rudders, located behind the cruciform tail, provide it with high maneuverability. The front and rear tail folding. This design allows you to place the KAB-1500LG in the bombs of large aircraft, and not just on the external suspension.
The exact place and time of application of the video hit is unknown. It is also unclear which group was the target of the Russian bomber.
The first combat use of the KAB-1500LG took place in October 2015, in Syria. Then Su-34 of the Russian Federation used 2 bombs of this type against recessed targets. Another recorded use case is related to 11 on April 2017, when a Russian fighter-bomber, using KAB-1500LG, destroyed a terrorist bunker located in the town of Sarmin near Idlib. The bomb was also used in the Battle of Salma and in the area of ​​the city of Al-Lataminha.