The Ministry of Foreign Affairs of the Russian Federation confirmed that all 11 Russian sailors who were crews of tankers attacked today in the Gulf of Oman were rescued by the coast guard of Iran. According to diplomats, all the saved are safe.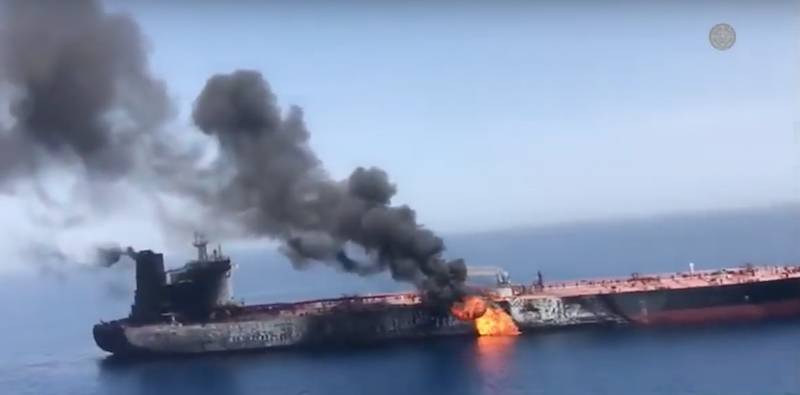 Around 40, people taken from tankers attacked in the Gulf of Oman were taken by the coast guard of the Islamic Republic of Iran to the port city of Jask. In the course of screening procedures and establishing national identity, it turned out that the 11 of the rescued were Russians.
The Embassy of the Russian Federation is doing everything possible to return our citizens to their homeland.
- informs the Ministry of Foreign Affairs of the Russian Federation.
Two tankers were attacked
Tankers from which the sailors were evacuated transported oil in the waters of the Gulf of Oman. The Iranian television channel Press TV reported that two explosions had thundered in the Gulf of Oman on Thursday morning. Norwegian tanker Front Altair, carrying 75.000 tons of oil, caught fire and sank, and a fire broke out on the second vessel, Kokuka Courageous, heading from Saudi Arabia to Singapore with a load of methanol on board.
The attack caused an increase in oil prices by 4%. As CNN later reported, sailors from the USS Bainbridge destroyer, the US Navy, found an unused magnetic mine fixed aboard one of the attacked tankers.
US accused of attacking Iran
Meanwhile, the United States directly accused Iran of organizing a ship bombing. Washington's opinion was voiced by the United States Secretary of State Mike Pompeo.
According to Pompeo, at the next meeting of the UN Security Council, the United States is going to voice its accusations. According to the Secretary of State, in Washington they concluded that Iran was guilty by summing up intelligence data, information gathered on the course of the training, and also based on an investigation of previous attacks.
The US government believes that Iran is responsible for today's attacks on two tankers in the Gulf of Oman.
- the state secretary emphasized.
In addition, the United States said that information about the rescue of seafarers by Iranians could be a lie, since, for example, only the crew of the United States missile destroyer Bainbridge saved an 21 man. Pompeo also announced that, according to the White House, the attack on tankers was caused by Iran's attempts to cause an increase in tension in the region.