Nuclear-powered strategic-purpose underwater missile "Prince Vladimir" of the modified 955A project "Borey-A" resumed sea trials, leaving for sea from Severodvinsk. The first part of the factory running tests was carried out in November-December last year.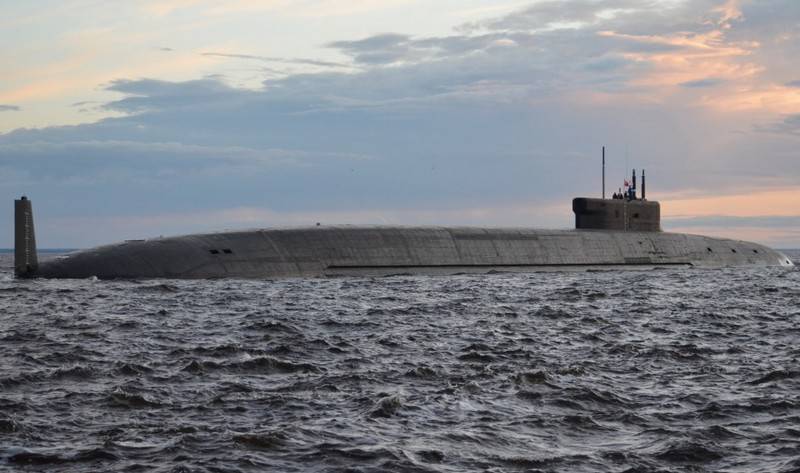 APRKSN "Prince Vladimir" came from Severodvinsk to the second stage of factory running tests. The first entry into the ZHI was on 28 on November 2018 of the year and lasted until December 22, after which the submarine cruiser was returned to the enterprise to eliminate the deficiencies identified during the tests and to make improvements.
The lead submarine cruiser of the Borey-A project was laid on Sevmash in Severodvinsk on July 30 2012 of the year, the output from the workshop took place on November 17 of the year 2017. According to the plans of the Ministry of Defense of the Russian Federation, the transfer of the nuclear underwater missile carrier "Prince Vladimir" to the Russian Navy should take place before the end of this year.
At present, four more serial ARPXNs of this 955 project are being built at Sevmash: Prince Oleg (officially laid on July 27 2014), Generalissimus Suvorov (laid on December 26 2014 of the year), Emperor Alexander III (laid on December 18 2015) year) and "Prince Pozharsky" (founded December 23 2016 of the year).
Currently part of the naval
fleet
Three atomic missile submarines of project 955 (Borey) of the 4th generation are in service - the strategic missile cruisers Yuri Dolgoruky, Alexander Nevsky and Vladimir Monomakh. In the future, the construction of the underwater cruisers of the Borey and Borey-A projects is not planned. Instead, the Ministry of Defense is considering the option of laying in the near future two submarines - carriers of cruise missiles of the Caliber, Onyx or Zircon type. The project received the preliminary name "Borey-K".
The submarines of the 955 and 955А projects (Borey and Borey-A) were developed by the Central Design Bureau of the Marine Equipment Rubin. The differences between the 955 and 955А projects were not disclosed, however, it is known that the Borea-A, compared to the Boreas, modernized the hull designs, uses new electronics, and the 955A boats are better stealth.