Major repair work on heavy aircraft carrier "Admiral Kuznetsov" is on schedule and will be completed in the year 2020. He told the head of USC Alexey Rakhmanov during the St. Petersburg International Economic Forum (SPIEF).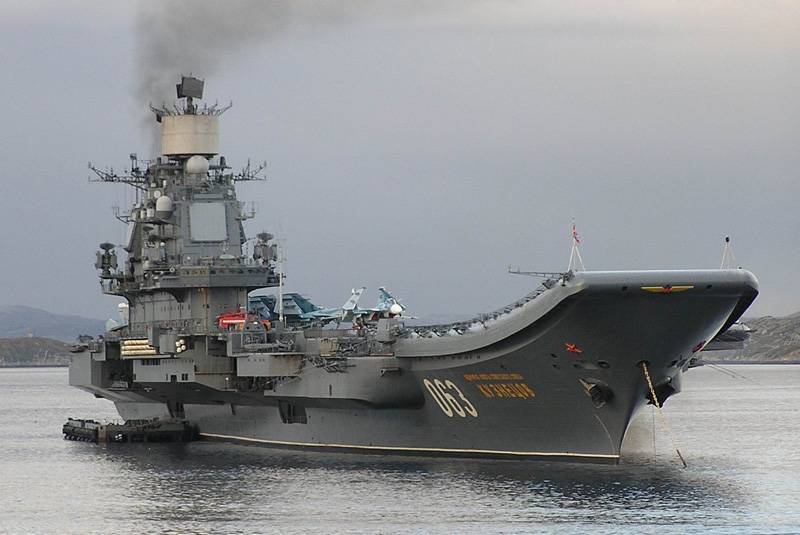 Answering a question regarding the date of the repair, "Admiral Kuznetsov" Rakhmanov said that all work on aviaanostse are on schedule, the end of the main part of the work planned for the year 2020. The aircraft carrying cruiser will be tested in the 2021 year with subsequent transfer to the customer.
We planned to finish most of the work in 2020 year and carry out tests in 2021 year. The transfer was originally planned in 2021, none of this has changed so far.
- he said, adding that there can be a slight shift to the right due to a problem with the drydocking of the cruiser.
He explained that the issue of docking "Admiral Kuznetsov" is at the design stage. Work will be carried out on 35-m shipyard in Murmansk, where it upgraded dry docks.
Rakhmanov touched another troubled project - nuclear submarine "Kazan" project 885M ( "Ash-M"). He said that at the present time on a submarine demagnetization is performed, it will be on trial next month. According to the results release it will be decided for rectification of identified deficiencies and shortcomings systems.
The head of the USC did not elaborate on what exactly the shortcomings in question and promised to talk about it after the release of the submarine at sea. At the same time it will be announced on the likely timing of delivery of the submarine to the customer.
Recall that the commissioning of the nuclear submarine "Kazan" - the first multi-purpose nuclear submarine project improved 885M ( "Ash-M") - has been scheduled for the end of this year. However, during the tests, deficiencies in auxiliary systems were revealed that do not meet the requirements of the Ministry of Defense, including reliability.
Currently, the submarine is in the dock of Sevmash, transfer it to the Navy planned previously, on 2020 - 2021 year - it will depend on the scope of the problems identified and the term for their elimination.