Cargo Spacecraft Cargo Dragon, developed by SpaceX, undocked from the ISS, successfully splashed down in the Pacific Ocean. It was 17-I successful Cargo Dragon mission to deliver cargo to and from the ISS.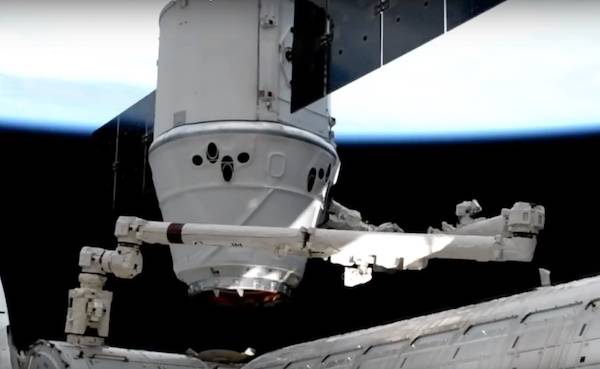 The American spacecraft Cargo Dragon, which is currently the only cargo spacecraft capable of not only delivering cargo to the ISS, but also returning it to Earth, splashed down in the Pacific Ocean and thus successfully completed its 17 mission.
The streaming took place in the normal mode and in the planned area, in 326 km from the American city of Long Beach (California). The ship returned almost two tons of cargo to the ground, some of which are the results of unique scientific experiments conducted on the international space station.
Cargo Dragon is a partially reusable ship and belongs to the well-known private company SpaceX, which operates flights to the ISS under a commercial contract with NASA.
Mission lasted four weeks
In orbit, the ship spent four weeks. The launch of the mission took place on May 4, 2,5 tons of cargo were delivered to orbit at that time. The cargo included food, scientific and technical equipment, as well as materials for conducting scientific research on the ISS.
At the moment, 6 astronauts and astronauts are in orbit. They are Russians Oleg Kononenko and Alexey Ovchinin, Americans Ann McClain, Christina Koch and Nick Haig, as well as Canadian David Saint-Jacques.
Also, the cargo spacecraft Cygnus developed by the Northrop Grumman aviation industry corporation, the Russian Progress trucks, and two manned spacecraft Soyuz remain docked to the ISS.
A manned mission is scheduled for the end of the year.
Previously "Military Review"
Reported
that in Russia the crew of the Crew Dragon spacecraft was completed as part of the American astronauts Robert Benken and Douglas Hurley. In the Cosmonaut Training Center. Yuri Gagarin, they made acquaintance with the Russian segment of the station.
The first flight of the manned Dragon is scheduled for autumn 2019 of the year. It is expected that he will be able to deliver to the ISS before 7 people.
The launch of the manned version of the ship is delayed due to the accident on the test bench that occurred on 21 in April of this year. Then, when checking the emergency rescue system, an explosion occurred that destroyed the test ship.