In South Korea, resumed production of the main combat
tank
(MBT) K-2 "Black Panther" for the South Korean armed forces. The first two tanks with a domestic engine and German transmission were transferred to the Defense Procurement Programs Agency of the Ministry of Defense of the Republic of Korea (DAPA).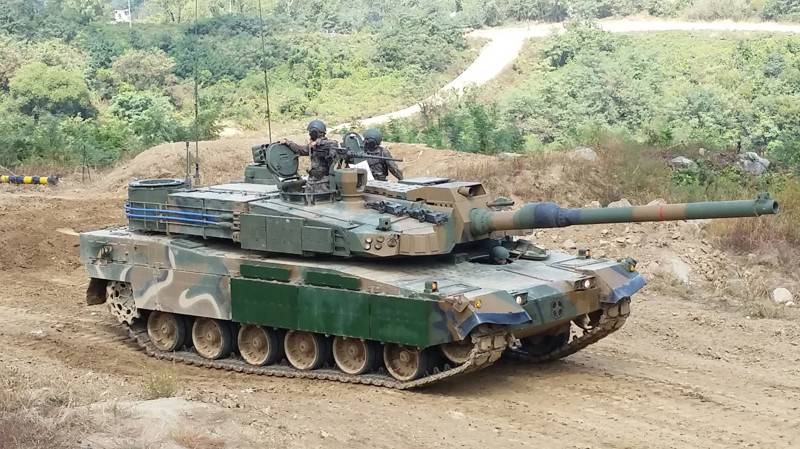 May 27 South Korean company Hyundai Rotem announced the resumption of production of the Black Panther MBT K-2 with a domestic engine and German transmission. The solemn ceremony of the transfer of the first two tanks of the Ministry of Defense took place at one of the enterprises of the company.
Designed as a replacement for the outdated K-1 and M-48 tanks of the South Korean army, the K-2 "Black Panther" was supposed to start being delivered to the South Korean air force from the year 2011, with plans to supply up to 600 tanks. However, problems with the development of the domestic engine and transmission constantly shifted the timing of the start of tank deliveries to the troops. Due to problems, the number of purchased equipment was reduced to 297 units.
The delivery of the first batch of 100 serial MBT K-2 under the 2011 contract began only in June 2014. At the same time, the tanks were equipped with a German MTU 883 V12 diesel engine with a capacity of 1500 hp. and automatic transmission Renk. The second batch of 106 cars was supposed to be delivered with a Doosan Infracore DV27K diesel engine (1500 hp) and an S&T Dynamics EST15K automatic transmission of South Korean design and production by 2017, but was postponed until 2020 due to the low reliability and durability of the automatic transmissions.
Despite the attempts made, the South Korean designers did not manage to make a reliable transmission for the tank, so it was decided to release the second batch of K-2 with the domestic DV27K engine developed by Doosan Infracore and the automatic German transmission Renk. 1500 hp diesel engine will allow the new version of K-2 to reach a maximum speed of 70 km / h, the power reserve will be 450 km.
Tests have shown the durability of this pair, equipped by this way two prototypes made a run for a distance of 3200 km. The tests were carried out in various conditions, including during the cold season, and were considered successful.
Whether the third batch of the Black Panther OBT K-2 will receive domestic transmission is not yet known.