Spectators of the final all-Russian stage of the Aviadarts-2019 competition in Crimea will see spectacular performances by Russian pilots. At the Chaud training ground near Feodosia, the testing of the tactical episode "Aviamiks", which will be held on June 1, began. This was reported by the press service of the Black Sea
fleet
.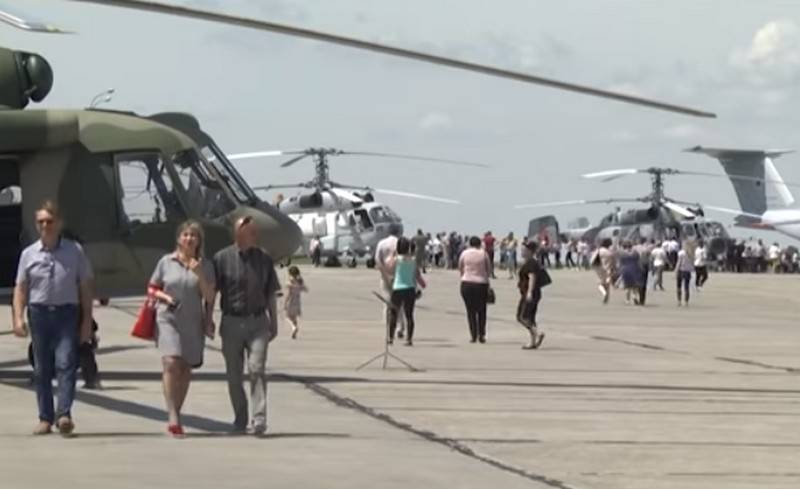 As reported in a popular report, 1 June for the spectators and guests of the competition "Aviadarts-2019" will show practical bombing under the guise of fighter-interceptors, air combat on multi-functional fighters Su-35С. A bomb strike with a total weight of about 10 tons on the Chowd range will be delivered by long-range supersonic Tu-22М3 bomber bombers and Su-34 fighter-bombers under the cover of Su-30СМ fighters.
Participants of the show "Aviamiks" started training air combat on Su-35С fighters and bombing under the cover of fighter-interceptors
- informs the press service of the Black Sea Fleet.
Also, viewers will see group launches of rockets by Su-25CM3 attack aircraft from diving, rocket attacks from Ka-52 and Mi-28H helicopters, as well as landing cargo on accuracy from an Il-76 heavy military transport aircraft. The program of the day will be completed by the performances of the Russian Knights, the Swifts and the Golden Eagles aerobatic teams.
Earlier it was reported that in Crimea from May 24 to June 9 the final all-Russian stage of the Aviadarts-2019 competition will take place, in which 58 crews of operational-tactical, long-distance, military transport and army will take part
aviation
representing four military districts and the Northern Fleet.
The winners of the competitions in their nominations will represent Russia already at the international stage of the competition, which this year will be held from July 29 to August 12 on the territory of the Russian Dubrovichi range in the Ryazan region. Besides Russia, crews from Belarus, Kazakhstan and China will take part in it.