At the scientific and technical forum "Day of Advanced Technologies of Law Enforcement Agencies-2019" in the Moscow Region, the Ulyanovsk developers presented a special vehicle "Esaul-394511" 4х4, intended primarily for Rosgvardi divisions.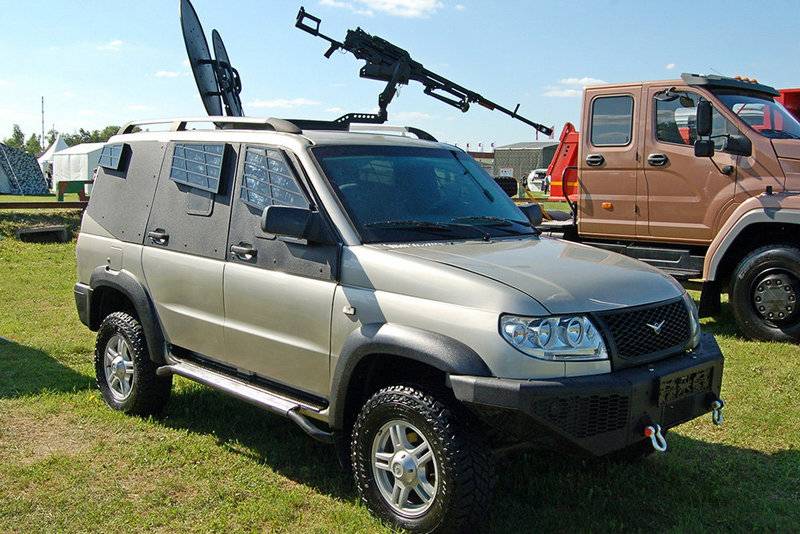 The armored car is designed to quickly transfer fighters and cover them if necessary with machine-gun fire, for which a large-caliber machine gun Kord 12,7-mm is installed on the roof of the "Esaul". The car is based on the UAZ "Patriot" with the use of armored OBD-capsules (volume-differentiated armored capsule), which provides protection against small
weapons
5,45 and 7,62-mm. The bottom of the car withstands the undermining of the RGD and F-1 grenades.
There is a reservation of the engine compartment and installed explosion-proof and fireproof fuel tanks. With a total mass in 3,5 tons of armored vehicles capable of carrying 800 kg of cargo. Engine power -135 hp Maximum speed on the highway - up to 140 km / h. The ford depth is 0,5 m, the maximum lift angle is 35 degrees. Power reserve - 680 km. Crew - 4 person.
Earlier, the Ulyanovsk designers presented an armored vehicle, the Esaul, armed with the Kornet anti-tank complex. In the upper part of the body mounted a special bracket, which is mounted ATGW. Inside the body is also transported ammunition of guided missiles. The crew of the armored car - 4 man.