The first batch of new uncontrollable
aviation
missiles "Armor" was manufactured by the concern "Techmash". The enterprise released a batch for experimental military operation at its own expense.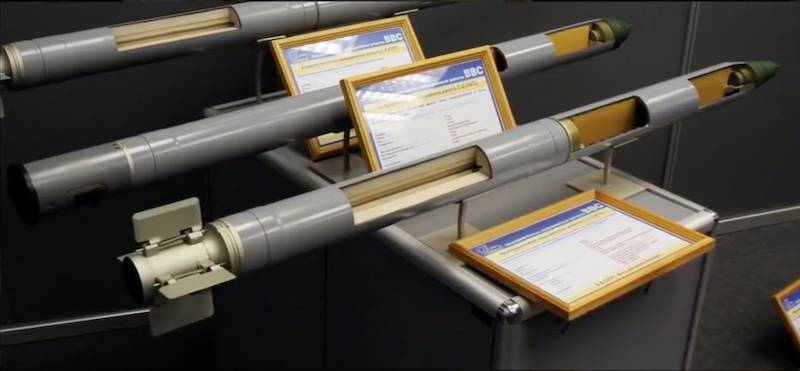 TASS news agency reports that the concern "Tehmash", a subsidiary of the corporation "Rostec", produced the first batch of new promising 80-mm unguided aircraft missiles (NAR) "Broneboyschik." According to representatives of the company, the tests have been completed in full.
New company launched missiles at its own expense
The batch, issued by the company, should be put into pilot operation, which, according to preliminary data, will begin in the 2019 year. New NAR "Tehmash" released at its own expense.
At our own expense, we have prepared a batch for pilot-military exploitation in order to develop methods for the combat use of these munitions.
- TASS quotes the words of the deputy general director of the enterprise Alexander Kochkin. According to Kochkin, the question of the procedure of the Ministry of Defense may decide as soon as possible.
According to the manufacturer, the C-8OFP "Armor-washer" should, by efficiency, exceed the unmanaged air-launched missiles that are in service with the Armed Forces of the Russian Federation by a factor of 5-6.
The rocket has a small-sized engine powered by high-energy fuel. Thanks to him, the weight of the missile warhead was able to increase two to three times, while maintaining the size.
Another feature will be the CU: a fuse is installed on it, which, depending on the settings, allows you to pierce the obstacles in front of the target, to explode both in front of them and behind them - depending on the situation. Information on the fuse is entered via an induction link in automatic mode.
Our new missile, "Armor", has an increased range, fragmentation effect, and, among other things, can provide a supergrand action due to the operation of the fuse. In previous analogues this was not.
- Vladimir Lepin, director of the company, told Zvezda TV channel in an interview with 18 in May.
REFERENCE
The ammunition is intended, first of all, for the Su-25 attack aircraft, attack helicopters and Mi-8 helicopters.
An armored 122-mm Monolith rocket is also being developed on the basis of the Armored Worker. According to the general director of Tehmash, it will be classified as high-precision
weapons
. Compared with the "Armored worker" "The monolith will have a large range of capabilities.