According to the news agency
TASS
, actually conducted the first flight tests of the Russian drone drone. We are talking about the UAV "Hunter".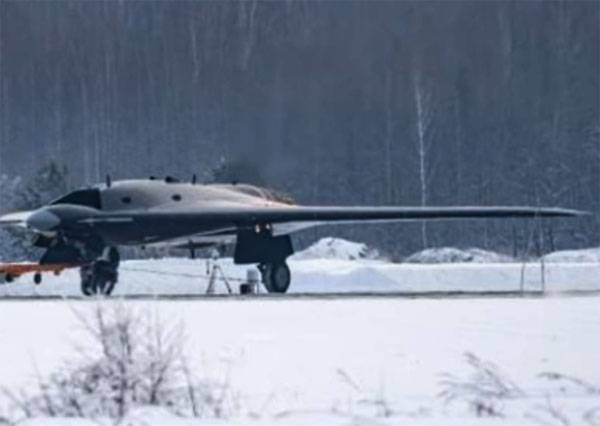 The report says that the Hunter heavy unmanned aerial vehicle first flew into the air. It is hardly possible to call this a full-fledged flight, since the purpose of the testers was to check the parameters when detached from the runway.
"Hunter", having accomplished acceleration, demonstrated a so-called jump, climbed several meters, breaking away from the runway of the airfield of the Novosibirsk aircraft plant. After the jump, the drone, as noted, immediately landed.
In this case, the reports say that the shock UAV passed this kind of test in early spring. The exact date is not called.
Recall that the Hunter C-70 UAV, an unmanned percussion device that belongs to the class of UAVs of low radar visibility, is made using stealth technology. The tests carried out on the very same jump allowed the creators of the combat unmanned vehicle to check its aerodynamics, handling and operation of the onboard systems.
According to data published in open sources, the maximum take-off weight is 25 t, while the C-70 "Hunter" is capable of carrying up to 2,8 t armaments. The range is 5000 km, the maximum speed is up to 1400 km / h.