Mass riots swept the 12-millionth of Jakarta and other major cities in Indonesia. In clashes with the police involved thousands of protesters.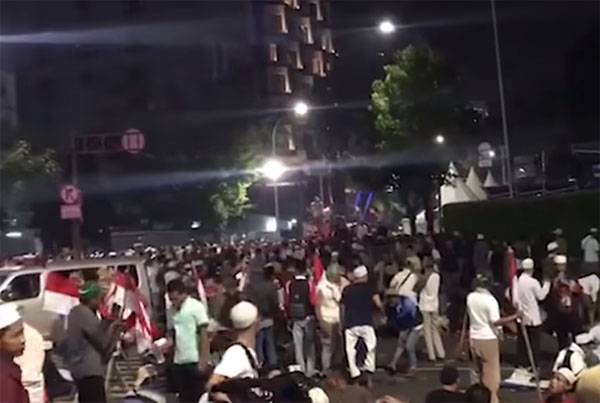 According to some information, the first casualties appeared as a result of the collisions. At this point, the Indonesian media reported on six victims of the outbreak of conflict.
What is the essence of this conflict?
The reason for the unrest was the results of the presidential elections. The Indonesian CEC announced that incumbent President Joko Widodo won the election with an 55,5% result. His rival, retired General Prabowo Subianto, has about 44% of the vote.
Subianto said he did not recognize the election results, noting that Widodo used administrative resources.
After that, supporters of the general began to take to the streets of Jakarta and demand a review of the election results. After some time, representatives of radical movements began to appear in the crowd, many of which are in favor of turning Indonesia into an Islamic republic. One of these movements is the "Movement for the Defense of Islam", which also includes openly extremist movements.
The protesters began to burn tires in the center of Jakarta and other cities, began to throw police stones and smoke bombs. Dozens of cars were burned at the market of the capital of Indonesia and at the administrative buildings. Protesters are building barricades.
Against this background, the oppositional ex-candidate Prabovo Subianto announced that if he assumed the office of president, he would increase the monetary allowance for servicemen and police officers. The goal is obvious - try to enlist the support of law enforcement agencies. The latter is on Widodo's side.