Connection of the Baltic landing ships
fleet
replenished with a small hovercraft landing ship (MDKVP) of project 12322 Zubr returned from repair, Evgeny Kocheshkov. The ship arrived at its permanent base from the Baltic Yantar Shipyard, where it underwent repairs. This was reported by the press service of the Baltic Fleet.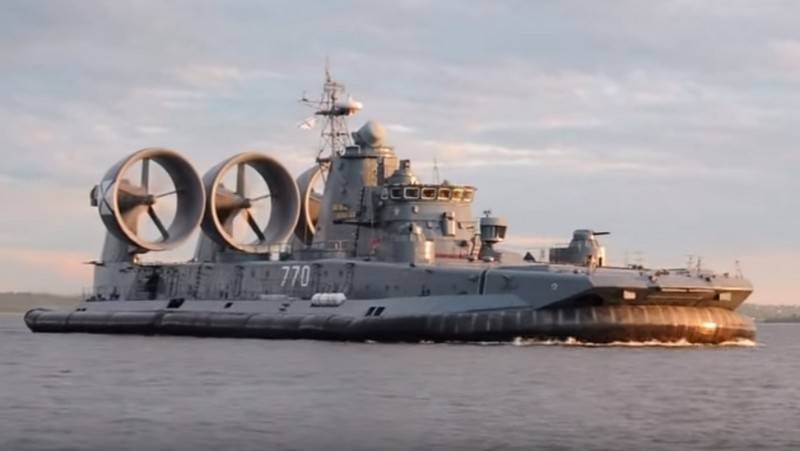 According to the report, on the ship Yantar on the ship, the engine installation was repaired, the ship's rubber "skirt" was restored and the hull was repaired. The ship arrived at the base in the near future will be released to the training of combat missions at the sites of the Baltic Sea.
The small landing craft on an air cushion (MDKVP) "Evgeny Kocheshkov" project 12322 "Bison" was founded as "MDK-50" and introduced into the BF 30 October 1990 of the year. 17 August 2001 was renamed "Eugene Kocheshkov".
Displacement 555 tons. The length of the 57,3 meter, the width of the 25,6 meter, the height of the 21,9 meter. Sailing speed at 55 speed nodes - 300 miles, at the same speed without load - 1000 miles. Autonomy 5 day. Crew 31 man. The speed of 60 knots is provided by 5 gas turbine engines with 10000 horsepower. each.
For fire support of the assault forces at the time of disembarkation, as well as for self-defense, an armament complex was installed on the ship as part of 2-x firing systems with unguided missiles 140-mm MS-227 "2 ammunition (132 ammunition ammunition) and two 30-mm six-barreled artillery installations AK-630 (3 000 rounds of ammunition) with a fire control system and 1 x 2 PU MTU-2 ADMS Needle-1М (from 8 to 32 ЗUR).
MDKVP is able to carry 3 main combat
tank
with a total mass of 150 tons and 80 marines or up to 10 armored personnel carriers weighing up to 131 tons or 8 infantry fighting vehicles and 140 marines, and also in the absence of armored vehicles, up to 500 paratroopers.
It is intended for receiving aboard from an unequipped or equipped coastal division of marines with military equipment, as well as transporting them by sea and disembarking on the coast of a potential enemy. MDKVP is able to land troops on 70% of the total length of the coastline of the seas and oceans of the Earth.