At the 9-th International Exhibition of Armament and Military Equipment "MILEX - 2019" held in Minsk for the first time, Belarus presented the prototype MRAP-class Defender armored vehicle. This is reported by the blog bmpd.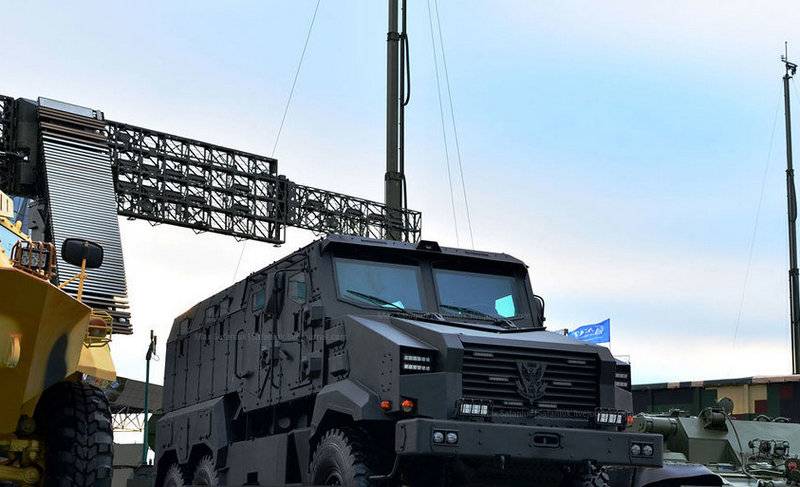 The armored car was created by JSC "140-th Repair Plant", known for its upgrades to various armored vehicles. The Defender was created for special forces units, transporting personnel, using them as a platform for reconnaissance, communications and command staff.
The wheel formula of the armored car - 6X6, the machine is made on the chassis of the MAZ-631708. Full weight - 19,800 kg. The installed YMZ-7511 engine with an 400 horsepower (294 kW) with a gearbox - the YMZ-239 allows you to reach speeds up to 90 km / h.
The capacity of the armored vehicle is 14 people, including two crew members stationed in the cabin. The landing is placed in an armored module, which is accessed via a rear ramp. The declared glass protection class is 5 (SVD-AKM 7,62-mm cartridge 57-H-231 10 meters), the body of the armored vehicle is 4 (AK-74 5,45-mm cartridge 7Н10 5-10 meters).
Judging by the class of MRAP, "Defender" should have mine protection, but this is not yet known. There is also no data on the possible armament of an armored car, although it can be assumed that the designers provided for the installation of some kind of combat modules or other weapons.
Since the armored car is shown for the first time, there is very little data on it, except for those that are already presented.