The ex-commander of the so-called operation of the combined forces in the Donbass, Lieutenant-General Sergey Naev (lost his 6 position on May 2019 of the year by Poroshenko's decision) gave another interview to the Ukrainian media. At the same time, in an interview, Naev issued new "calculations for the number of Russian military" in the Donbas.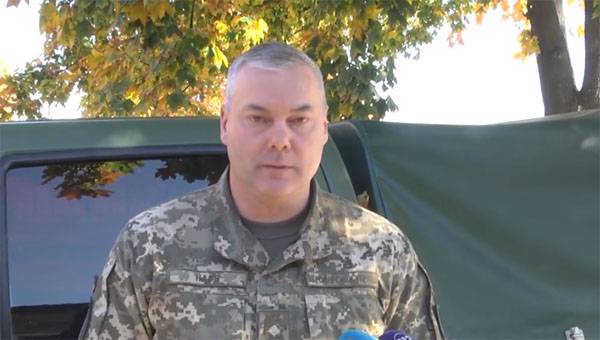 S.Naev (photo 2018 of the year)
According to Mr. Naev, "35 Thousands of Military" are located on the territory of Donbas not controlled by Kiev. Moreover, Naev used the combination not of "Russian military", but "Russian citizens", which, for obvious reasons, changes the essence.
Naev:
In Crimea, 40 is a thousand of military men, in ORDLO (some districts of Donetsk and Lugansk regions - the Ukrainian name is LDNR, - approx. "VO") - 35 thousand.
Special units, instructors from Russia. They are there in general from 2100 to 2300 people. And in the ranks of the "army" is about 11 thousand Russian citizens (this is before the issuance of passports), and the rest of the staff - the locals.
According to Naev himself, he drew conclusions about the "Russian commanders" on the basis that "they are not shown" on television. A weighty argument from the general of the Ukrainian army ...
Naev:
Have you ever seen the commanders of the so-called first army corps or second army corps? They never show.
In another interview, Naev said that it would take "less than a day" to take the ORDLO under the control of the Ukrainian army. According to the Ukrainian general, it is possible to win the Donbass in such a time if the Ukrainian troops "act quickly and gain a foothold on the border." I remember the saying that "if ..., then the grandmother would be a grandfather."