The commander of the so-called Combined Forces Operation, Ukrainian General Sergey Naev, made a publication in connection with the anniversary of the above EP. On the fifth anniversary of the Odessa tragedy, the Ukrainian general once again declared that the troops he led "resist Russian aggression."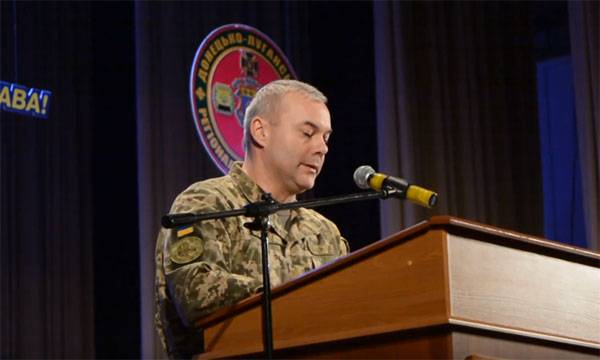 At the same time, Naev presented his point of view as to why the operation initially (for several years) was called the "antiterrorist" operation (ATO), and then was renamed to OOS.
According to Naev, the Russian Federation "created in certain areas of the Donetsk and Lugansk regions (DNR and LNR, note" VO ") full-fledged military commands of the level of the army corps."
Ukrainian general:
These commands were incorporated into the 8 Army of the Southern Military District of Russia. This prompted us to stop the holding of an anti-terrorist organization and go to a military operation.
According to Naev, the formation of groups for environmental protection was completed on 30 last April. The concept of their application was approved by the President of Ukraine Petro Poroshenko. It is worth noting that the whole approved Poroshenko environmental protection plan consists of shelling adjacent territory, sabotage and so-called "toad jumps".
However, Naev claims that the plan also contains a "humanitarian component". According to the general, further restoration of infrastructure and peaceful life in "these territories" is expected. Especially cynical statement, given that Naev himself gives orders to destroy the infrastructure and dismantle that very peaceful life.
According to Naev, the Ukrainian army "survived in the fight against the enemy, showing the power of its
weapons
and stabilizing the line of contact. "
Naev said that the combined forces carried out "forcing the enemy to reduce the intensity of firing."
Naev:
Without violating the Minsk Agreements, about 24 square km of territories, including the 3 settlement, were returned under control.
Amazing logic. How is it possible, without violating the Minsk agreements, to seize the territory and the settlements located on it? Mr. Naev will not answer this question, of course.