On the armament of the Marine Corps of the Naval Forces of Ukraine in the near future may receive a new modern combat armored vehicle. It is reported by the national industrial portal with reference to the Ministry of Defense of Ukraine.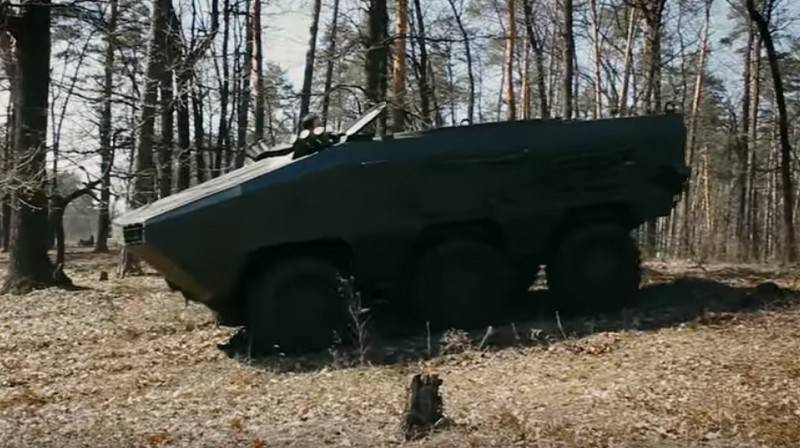 As reported, 19 of April at a meeting with the Deputy Minister of Defense of Ukraine, Lieutenant-General Igor Pavlovsky, addressed the issue of providing the Marines of the Navy with a combat vehicle specifically designed to carry out the tasks inherent in these units.
The discussion proposed project armored combat vehicle armored combat vehicles code "Ataman", adopted the general outline of the future combat vehicle and identified further challenges to enterprises - participants of cooperation, for further work.
It is proposed that in a variant for the Marine Corps BBM "Ataman" will have a total weight in 23500 kg, with payload will be at least 5500 kg. The crew of the combat vehicle - 3 person, while in the troop compartment to be carried 6 marines in full combat gear. Installation of a diesel engine Deutz 410kW / 558 hp is assumed. with automatic transmission. Wheel formula 6X6.
The frontal reservation protects from the 12,7-mm caliber, side projections PZSA-5 (protection from 7,62 mm bullet of automatic cartridge 57-БЗ-231с with bullet БЗ (automatic AKM) from distance 10 m). Additional reservation is provided.
Armored car is supposed to equip the weapon station BM-3M "Sturm" (30-mm automatic gun ZTM-1 with ammunition 200 shells paired 7,62-mm machine gun CT-7,62 with ammunition 2000 cartridges, 30-mm automatic grenade launcher KBA-117, ATGM "Barrier "with four missiles).
Terms of development, testing and receipt of new armored vehicles in the army are not called.