The naval forces of Ukraine will soon receive a reconnaissance ship of domestic production. According to the press service of the Ministry of Defense of Ukraine, a solemn launching of the first middle reconnaissance ship took place at the Forge Shipyard in Kiev on Rybalsky.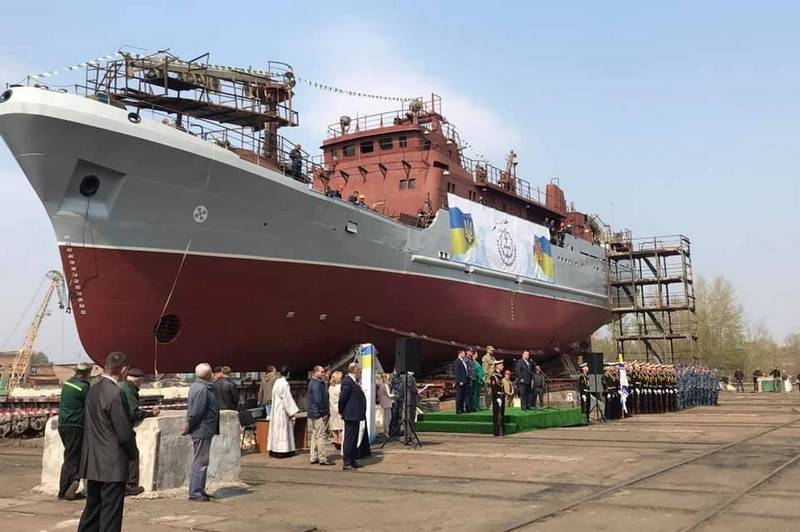 According to the Ukrainian Defense Ministry, the reconnaissance ship was built for the needs of the Ukrainian Navy by order of the Ministry of Defense as part of the State Targeted Defense Program for the Development of Arms and Military Equipment for the period up to the 2020 year.
The Minister of Defense of Ukraine Stepan Poltorak, who was present at the launch ceremony, called the new ship "unmatched in Ukraine" and the "victory" of the Naval Forces of Ukraine, who receive this ship in service.
For all
history
There were not so many examples in Ukraine when powerful armored boats and amphibious boats were launched, and today - the average reconnaissance ship, which has no analogues in Ukraine - in terms of equipment and ability to perform tasks. This is a huge breakthrough and this is a victory!
- said the head of the Ukrainian defense ministry.
According to the "Ukrainian military portal," the reconnaissance ship is being built on the Forge on Rybalsky SSZ by rebuilding the 502EM EGET trawler, five ready hulls for which were built on the stocks of the plant in varying degrees of readiness.
Vessel displacement (full) according to the basic design 1220 tons, maximum length 54,8 m, width 9,8 m, depth of the board 5 m, speed-11,6 knots, cruising range over 7000 miles.
When the completion of the ship's construction is completed, and what reconnaissance equipment will be installed on it, it is not reported.