In St. Petersburg, laid two new frigate project 22350. The ceremony of laying the ships was attended by Russian President Vladimir Putin.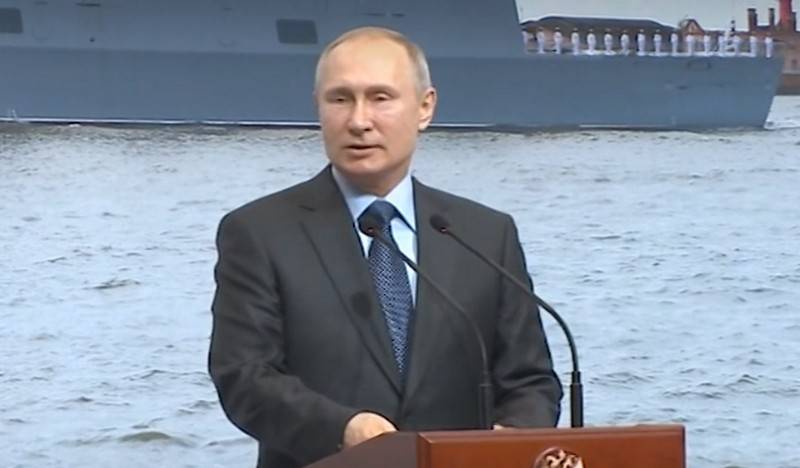 As reported, the President of Russia arrived at the shipyard "Severnaya Verf", where he took part in the solemn ceremony of laying down two serial frigates of the 22350 project - "Admiral Amelko" and "Admiral Chichagov". The head of state installed the Mortgage Board of the frigate Admiral Amelko, and the Mortgage Board of the frigate Admiral Chichagov was established jointly by Deputy Prime Minister Yuri Borisov, Defense Minister Sergei Shoigu and Industry and Trade Minister Denis Manturov.
Immediately after the ceremony of laying the frigates at the Severnaya Verf, the docking of the 20386 "Mercury" head corvette hull units took place. The ship was named in honor of the brig "Mercury", which in May 1829, during the Russian-Turkish war, won a victory in an unequal battle with two ships of the line and was awarded the stern flag of St. George for this feat.
Also, the Russian president took part in the videoconference mode in the ceremony of laying down two large landing ships of the 11711 "Ivan Gren" project at the shipyards of the Baltic plant "Amber" in Kaliningrad. For the Navy of the Russian Federation, the Vasily Trushin and Vladimir Andreev BDK will be built here.
During the laying of ships, the Russian president said that he expected that the planned construction time for newly laid ships in the Russian Federation would be sustained, since this is of great importance for the country's defense capability.