The fleet of the United States of America is looking for a way to circumvent payload restrictions through torpedo tubes. In order to find a solution to this problem, the United States is launching a special project.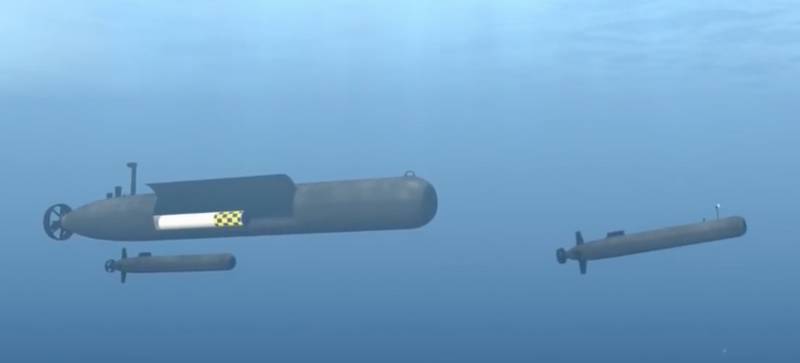 Each torpedo tube is a kind of docking system, a portal between the dry payload storage and the aquatic environment through which this payload will move to its final destination.
However, torpedo tubes have a very limited amount of the payload that can literally be placed in them. The new project of the Office of Naval Research (UWMI) of the United States aims to find a way around this limitation.
In particular, the navy is looking for a way to use torpedo mines to launch unmanned underwater vehicles (BPA). The development is called the "launch system of container BPA" or UUVSS.
The principle of these devices is simple: the unit is packed in a special container that has fixed dimensions corresponding to the size of the torpedo tube. It is 21 inches in diameter (approximately 50 cm), 25 feet (7,6 meters) long. The container should serve as a kind of conductor through the narrow mouth of the torpedo tube and open up as soon as it leaves.
Depending on the characteristics, the unit can either remain the same or increase in size due to inflatable elements.
Types of containers
Containers can be disposable or reusable. May vary depending on functionality. UWMI expects that disposable containers will "eject" from the torpedo tube with the underwater robot, and reusable containers will be able to remain in the mine in order to be reused.
The full list of requirements for the project strikes the fact that this is not just a desire caused by advances in robotics. It is also a request that became possible only because of progress in the field of materials science.
It is not only about launching robots from torpedo tubes, but also about creating miniature pumps and inflatable containers that make it possible to launch robots through pipes, using new technologies and modeling the interaction of fluids.
The project fits into a broader plan for finding ways to use submarines as base platforms and mother ships for smaller robots. In one of the proposals for another project, ways of modifying vertical launchers on Virginia-class submarines were considered, turning them into robots based bases. The launch container system allowed torpedo tubes to function in a similar way, which expanded the capabilities of a submarine with a human crew at times, making it not just a formidable striking force, but also a container for a whole range of shunting and reconnaissance vehicles.