"The armor is strong and
Tanks
ours are fast "- this is what habitually comes to mind under the name Yekaterinburg - with its Uralmash, Nizhny Tagil and Pervouralsky. True, in the post-Soviet years, this armor was severely trimmed and thinned, and the glory of the city is more in tune with the now popular place of execution of the last Tsar of Russia, Nikolai. In the era of the circumcision of our armor, they not only forgave Lens execution and Bloody Sunday, but also set up a colossal church, like the Moscow Christ the Savior, in the center of Yekaterinburg.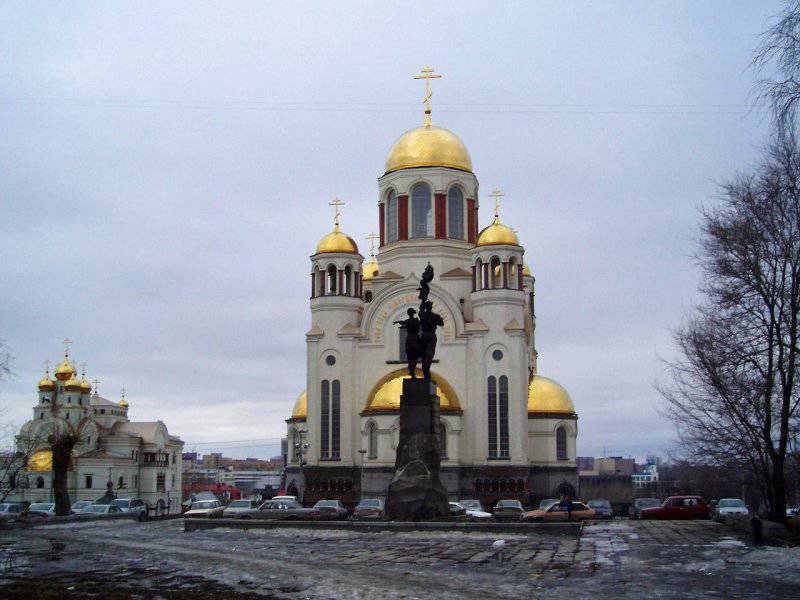 Another local attraction was the village of Butka in the Talitsky district, where Yeltsin, the founder of this circumcision, was born. It was the purpose of my trip related to one job, but I found nothing particularly interesting there. All rural production in the region has decreased by several times or even completely exhausted, I asked a Talitsky manager, a native of the same Butka:
- What do you feel more: pride for a fellow villager who has gone so far - or shame for the fact that during his time everything collapsed in your and in other areas?
- God knows ... In general, there is an insult. If a person was born here, he would have to somehow take care of his homeland. And he just gave money to the regional road - they shoved this pack for me, I didn't even know how to credit it. And I also presented my book to school ...
In Butka herself, Yeltsin was told little and reluctantly: he was not from here at all, but from the village of Gomzikovo, his mother was brought here to give birth, and then his father built a house for himself here. The current owners of this house did not even come up to say a few words about the former ones; everything here seemed to want to quickly forget the wrong hero - and most of the swan-overgrown fields were just around Boutka. It was as if the earth itself was in a hurry to tighten its tracks with its grass of oblivion - so that "the strings of the prophetic Boyana would not speak about him."
But in Yekaterinburg I excavated
history
of a completely different kind - sounding of the things themselves, but a proverbially forgotten now. Yekaterinburg among the largest cities of Russia is almost the youngest, it is not even three hundred years old. But they know exactly the day and circumstances of his birth, as well as the names of his parents: Vasily Nikitich Tatischev and Wilhelm Georg de Gennin.
The latter in Russian was called Willim Ivanovich, he was a Dutchman, he enlisted in the service of Peter the First as a specialist in architecture and artillery in 1697, at the age of just 23. From 1700 to 1710, the year has repeatedly distinguished itself in a war with the Swedes: it built fortifications in Novgorod and under Gangut, took Vyborg. And he himself was distinguished by the king: he received the rank of colonel and a gold medal with diamonds.
Further, the activity of Gennin acquires an amazing scope. In 1712, he builds a cannon-casting yard and a powder factory in St. Petersburg, then sets up production of rifles, combat blades and wire, serves as commandant of the Olonets region, reconstructs factories there, establishes the first Mining school in Russia, deals with water utilities of Moscow, opens ore deposits and mineral springs, repels the attacks of the Swedes on the Russian lands. The king makes it to the generals and favors his portrait in a diamond frame.
In 1722, Peter sends Gennin, to whom the glory of the "founder of the Russian mining plants" managed to gain a foothold, to the Urals "for the correction of copper and iron works." In addition, it is charged with investigating an altercation between Petrov's pet breeder Demidov and Petrov, the same envoy Tatishchev.
Vasily Tatishchev was born in 1686 year from the steward of Nikita Alekseevich, a descendant of the ancient princes of Smolensk. That is, he was of the bluest blood, while from childhood he had a great thirst for knowledge - the epoch of Peter the Great gave him all the books in his hands. Tatishchev became one of the first Russian encyclopedists and enlighteners: he created the fundamental works on history, geography, cartography, philosophy, economics and law. Opened to science such monuments of our written language as the Russian Truth and Law Code, wrote the first scientific "History of Russia since the most ancient times."
At the same time, as was the case with the incredibly versatile figures of that time, he was both a warrior and a large state businessman. He began his service as an ordinary dragoon, participated in the capture of Narva and in the Battle of Poltava, rose to the rank of lieutenant general. Already in the civil service he built iron and copper smelting plants, founded new cities and fortresses, on behalf of Peter he studied economics and finance in Sweden, was in charge of Moscow mints, was the Astrakhan governor.
In 1720, under the decree of Peter, Tatishchev was sent "in the Siberian province, in Kungur and other places, where convenient different places are searched, to build factories and, from ores, to melt silver and copper." For Tatishchev, then this business was completely new. But with the help of the Saxon Blière and other mining experts in one and a half years he was able to perfectly understand all his subtleties.
The Ural state-owned factories, of which there were then three, had dams, blast furnaces for smelting metal, "molotovye" for its processing, and "pipes for gun drilling". They were built at the beginning of the 1700-ies, worked quite poorly, giving out four times less production per year than the private plants of Demidov.
Tatishchev settled at one of the state-owned factories, Uktussky, established the Siberian Higher Mining Authority there and led a stormy activity in restructuring the whole business. Along the way, searching for places for new industries he was busy replacing bonded labor in the mining industry with a paid one; about sending for the work of captured Swedes; ore development by private entrepreneurs; on the establishment of factory ships, so that workers do not hang around with their lawsuits right up to Tobolsk - and much more.
Particularly zealously, he took the device of local schools, realizing that you can't get far to illiterate workers. They were opened at the factories two "primary" schools, where peasant children were taught to read and write, and two more, where they were already taught arithmetic, geometry and "other mining". In addition, he pushed for the construction of as many rural schools as possible, and those who were literate as a reward were exempted from recruitment.
Nikita Demidov, who was accustomed to feeling almost like a prince of the Urals, didn't like all this activity. Sensing a direct competitor in thorough Tatischev, he first wanted to buy it with money, so that he would not build anything in the Urals. And when that didn't happen, from time immemorial, through the course of centuries, he sent him to Petersburg, where he was patronized by Count Apraksin, a terry denunciation of the incorruptible messenger, accusing him of all sorts of harassment and bribery.
Tatishchev answered no less toothy - this conflict should have been resolved, as an arbitrator, by de Gennin, who also by the way used Apraksin's protection. And Apraksin immediately asked him in favor of Demidov, but Gennin, loyal above all to the Sovereign, who generously evaluated his works, replied: "I am pleased to help Demidov, but only that His Imperial Majesty's interest is inconsistent."
Gennin was older than Tatishchev by 10 for years, ahead of both his knowledge in mining and rank. They were familiar earlier in military and civil service, but there was no close friendship between them. And they were really brought together just by Gennin's meticulous investigation, during which he acknowledged Tatishchev's rightness, and wrote to the king: "Tatishchev did his best for Your Majesty's plants and probably don't be angry with him and get him out of sorrow."
But the main fruit of the friendship that arose between these two people with similar characters and destinies was the foundation of Yekaterinburg.
After becoming acquainted with the Ural state-owned factories, Tatishchev realized that on their basis it would not be possible to quickly increase production, which was extremely necessary for a booming empire. Much more profitable than "correcting" the old, it would be to build a new large plant. After exploring the whole area, the best place for it was found - on the banks of the Iset River, 7 versts from Uktus.
Tatishchev sent to the Berg-Collegium an extensive report substantiating his project. He was going to lay down such a plant, an equal to which had never happened before either in Russia or in Europe: on 200 thousands of pounds of iron per year. And with him there were also pigment production: steel, wire, tin, "board iron" and so on. He meticulously worked through all the questions on labor, on specialists, on raw materials, on the construction of materials, vehicles and tools.
But in the Berg College for a long time they could not digest such a capital plan, and Tatishchev, without waiting for an answer from her, in the early spring of 1721, began at his own risk preparatory work to start the main construction as soon as the snow melted.
Finally the answer came - but negative. The Berg-Collegium demanded an increase in first of all copper and silver smelting in order to mint money from them, but our first historian and economist Tatishchev understood that money itself is ugh, without a commodity supply, increasing their number only leads to their devaluation. Convinced that he was right, he literally bombarded the capital with his calculations of receiving "great state profits" from the banks of the Iset. And two years later, the Berg-Collegium nevertheless surrendered under the onslaught of Tatishchev, who was supported by Gennin, who was left in the Urals by the Chief Mountain Chief.
Construction began in the spring of 1723 of the year - and on November of the same year, the opening of the plant took place on 7. From which it can be judged that Tatishchev and Gennin were most likely to have begun work even before permission from St. Petersburg, at their own, again, fear and risk. And giving it particular importance to this plant-fortress, it was politically decided to name it in honor of the wife of Tsar Catherine - which she herself wrote about in advance. 23 August 1723, Ekaterina replied to Gennin: "What did you write about, that the plant built on Iset was called Katherinburg, which is also acceptable to His Majesty. And We will thank you both for correcting what you have done and for the name in the name of our newly built plant. "
And the birthday of Yekaterinburg was the day of the launch of the first hammer mill plant - 7 November 1723 of the year.
Less than a year later, Gennin wrote to the tsar: "Yekaterinburg plants and all the factories in operation, namely: two blast furnaces, two hammer hammers, three bright hammers, a laid, steel, iron-cutting, wire, saw mill, three copper smelting furnaces, and also a bread mill the mill and a lot of choir according to the drawing ... "
In 1725, a yard for manufacturing copper coins was added to the plant facilities, then a tin, fur, blacksmith, lapidary factory ... All other handicrafts began to grow rapidly, and soon there were already 335 residential yards, two trade rows: the official one at 18 and the private one at 11 shops. In the fortress they set up a laboratory, a bathhouse, a school. That is, the city, born of the bold foresight of two loyal subjects of Peter, has already fully and thoroughly healed. And soon became, with their easy on the great affairs of the hand, the largest industrial, commercial and cultural center of Russia ...
A very cute fellow drove me on this trip - skinhead Ambal Seryoga, such a poured representative of the modern "boys":
- Now in Eburg (in Yekaterinburg in a local way) there are no gangsters anymore, all the boys are businessmen. In the nineties, blood flowed like a river, they killed the Uralmash authority, in response they were soaked in the streets. Then Caucasians banged our kid on the market, we agreed with the cops to get all the outfits off the market - and they went to shred! And behind them the grandmothers - from the overturned tents they are dragging bananas, oranges, that happiness has come! .. And now - everything is quiet ...
I took Seregu with me to the Museum of Fine Arts, where the luxury of the exhibits, beating beyond the now fragile life, seems to have made a big impression on him. "What is this chick in the picture? Tarakanova? Princess? And how much does it cost in dollars? And how is it cast? Is all of the cast iron? Well, you guys! It will be necessary to bring the kids here, let them also indulge! .. "
And for a moment it seemed to me that his simple infant consciousness was something akin to the once untouched expanses along the Iset, which Tatishchev and Gennin had come to. They sowed their powerful lives, giving their hard work iron unsinkability of Russia. Their creative impulse was then cast in the cast-iron laces of skilled Kasli craftsmen, then in our Thirty-Fours, who knocked out the Nazis, then in rockets, which did not allow the new opponents to inase us.
But the fragile spirit of the recent years could only inflate the biceps of Seregi with animal power, without giving him anything other than this purely boy power. He tried something to trade - did not work: "All because of money, they gnawed and specifically burned out." And the Caucasians who were knocked out were primitive, without any Kasli inclinations with rods, who had come to master us now, as Tatishchev and Gennin had once had - soon Eburg occupied their trade endeavor and tribal pressure. And our plain pitching is not there to roll against them.
Will that general spirit bequeathed to us again, bequeathed to us by our great ancestors, with whom only a huge country can be kept? Or will the devotees of other tribes completely master our territories and mineral wealth - and the "prophetic Boyana strings", having died from grief, will be silent about us forever?
WHAT IS IN EKATERINBURKH

In addition, there are birds of many different genera, and immenno: eagles, swans, geese are different, and some of them are geese, which are very good, cranes, storks, gulls, herons, owls, black grouses are deaf and weedy, groves, partridges, ducks and waders, there are many different thrushes of large, medium and small, which make nests here and take out children and then fly off to Germany in autumn and packs return in spring, small lakes, larks and goldfinches, wild pigeons and small birds give birth to nightingales, which and there is tokmo away from Ekatirinburg. And the animals are found: goats, deer, elks, gornastali, squirrels, bears, wolves, red foxes, wolverines, martens, and in addition to these foxes, there are no black sables, only the sredka are found at the Chusovaya River and near Verkhoturye sable-freaks who are worse and martens, and those small part ...

Underground things near Ekaterburha were not found, except that, at the Shaytanka River, from Ekatiriburk versts in 90, two bones were found in the earth - a tooth and a cheek, which are said to be mamantha of an animal ... And the tooth was one and a half arshin, cheek, in which were teeth, weighing pounds 15. It is recognized about this beast that it was piled up in the earth during the flood, for such living beasts are now not visible here. About this beast, it is said that he has those big bones not teeth, but horns, however, it is unbelievable, because they saw in Tyumen the whole head of the so-called beast mamant, on which nests where horns would be, no. And it is more recognized that this beast was an elephant, not a mamant, and this bone resembles ivory, and that the bones of the locator near Yakutsk are cleaner, whiter and fresher inside than those near Berezov and closer here ...

From the notes of Vasily Tatishchev

"... Demidov's search for Tatishchev ended. And he did not prove that he had reported on Tatishchev, on the wanted list, or Tatishchev had time to bury the ends. And tea, so that could not please Demidov, although his opinion is known about that; Christ did not please everybody ...

And it is a pity that your Excellency did not deign for a long time to recall the structure and the correction and multiplication in these places of iron plants. And tea, that his majesty will graciously be grateful for those plants, because the local supplies are cheaper than the Olonets and iron is better; and if something does not spread in Russia, it will be possible to let it go far beyond the sea, which is why not a small profit will be in the Russian state ...

Takhozh, perhaps, if you please, ask the Most High Prince Menshikov to be merciful to me as before. I bothered him to pay debts for iron, which he took from Olonets factories with me, and the other without me, at his expense. And who was not compelled to believe in such a glorious prince, and let him let the iron by his letter, which bears such great sovereign mercy? And if he is such a tight payer, then the devil will continue to believe him, not me! .. And I was denied for the Honorable Prince of Olonets salary and commandant's salary. Hey tearfully and bitterly! It is time to stop writing, so that tears of literacy do not help. I thought to fix my fortune through my works, but I see the opposite. Although another will tell me: "The hard worker Gennin!", And what is the praise without money? French songs with hunger? .. "

From the letter of de Gennin to Count Apraksin