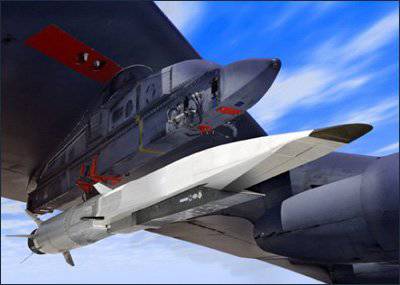 The US military intends to significantly increase funding for projects to develop hypersonic
weapons
and equip fifth-generation F-22 and F-35 stealth planes with similar ammunition. Such US activity seriously worried Russia.
For decades, the military of different countries tried to create missiles capable of flying at hypersonic speeds. Such weapons are practically invulnerable and can overcome any air defense. Until now, tests of hypersonic weapons have been going on with varying success, and until the creation of models that can be put into service is far away.
However, the US Air Force wants to change the situation and, moreover, to expand the shock capabilities of its fifth-generation aircraft.
The US military announced its intention to increase the development budget in the field of hypersonic ammunition by 150% - from the current 6,2 million dollars to 15,4 million dollars in 2013 year. In addition, it is planned to equip fifth-generation stealth fighters F-5 and F-22 with missiles flying 35 times faster than sound. This will allow you to quickly destroy any air defense system and with impunity to strike at targets protected by a powerful echeloned anti-aircraft defense system. The increase in the budget will be aimed primarily at accelerating the development of samples of missiles suitable for combat use.
Unlike strategic hypersonic weapons, such as the HTV-2, tactical missiles such as the X-51 will probably be widely used even in local conflicts.
Currently, the most compact hypersonic ammunition is the 8-meter prototype of the X-51 Waverider rocket, which is launched from the B-52 bomber. Fighters will have to develop much more compact rockets, which presents a certain complexity, since a powerful rocket engine and a perfect compact ramjet engine are required to accelerate to high speeds.
According to Deputy Prime Minister Dmitry Rogozin, studies of hypersonic weapons that the US plans to complete by 2015 year pose a particularly serious threat to Russia.
Hypersonic missiles significantly violate the existing parity in the field of conventional and even strategic weapons. Thanks to high-speed missiles, subtle fighters will be able to deliver unexpected disarming attacks that will pave the way for "traditional" means of attack, for example, bombers or cruise missiles.