The air part of the Victory Parade 9 of May of this year in Moscow will be represented by 18 helicopters and 56 aircraft, including A-50U AIRLO and A-plane, the press service of the Ministry of Defense reports.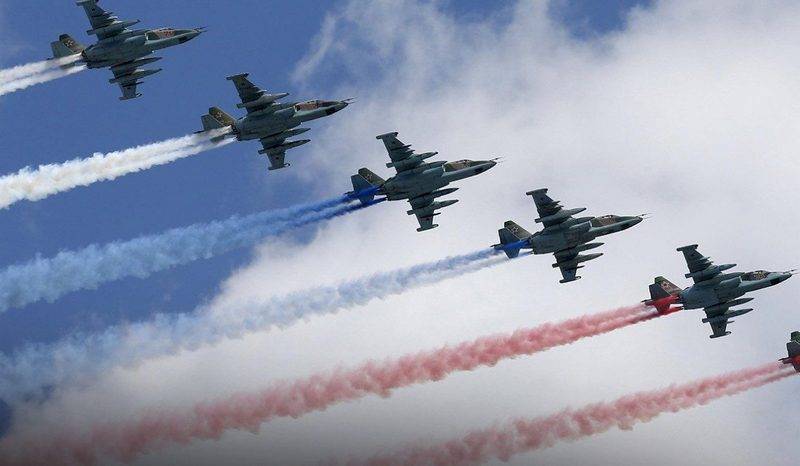 Thursday
aviation
The videoconferencing held the second training of the air part of the Victory Parade in Moscow. In total, there will be seven trainings in April, which will be held in the Moscow Region, and in May two more, but already over Moscow, the Ministry of Defense reported. It is emphasized that the composition of the air system, as well as the sequence of passage of helicopters and aircraft, were approved long before the relocation of the parade participants to operational airfields.
The Defense Ministry told about some changes in the passage of aviation over the Red Square on May 9. First, for the first time in four years, the Airborne A-50U aircraft and MiG-29MMT fighters of the Astrakhan aviation center, the Berkut aerobatic team will fly in the updated composition on the five Mi-28H airplanes to take part in the parade.
According to available information, the air system will lead the world's largest helicopter, the Mi-26, accompanied by four Mi-8AMTSh. Five Mi-28Hs will fly behind them, and the four of them, Ka-52 and Mi-24, will fly by.
Heavy aircraft represent flying one after the other three military transport Il-76MD, "White Swan" Tu-160 and four Tu-22M3, followed by Proceed three Tu-95MS, tanker Il-78 and "strategist," TU-95MS simulating refueling in the air.
The "light" part of combat aviation will be represented by MiG-29CMT, Su-34, Su-35С, Su-30СМ and attack aircraft Su-25.
The air part of the parade will begin after the passage of the mechanized column on Red Square and will last for about 10 minutes. Time to reach certain points for each aircraft and helicopter will be calculated to a second. Flights are operated at altitudes from 150 to 450 m and at speeds from 200 to 550 km / h
- Reported in the Ministry of Defense.
In total, 10 airfields in Moscow, Lipetsk, Voronezh, Tver, Ivanovo, Saratov, Kaluga and Ryazan regions are used for training and the parade itself.