US naval forces order new deck aircraft
aviation
and it turned out to be not the latest fifth-generation fighter F-35C, specially designed for the American
fleet
. As transmits
"Warspot"
With reference to the press service of the company Boeing, US naval aviation will be replenished with 78 new f / A-18 Super Hornet fighter jets of the latest modification.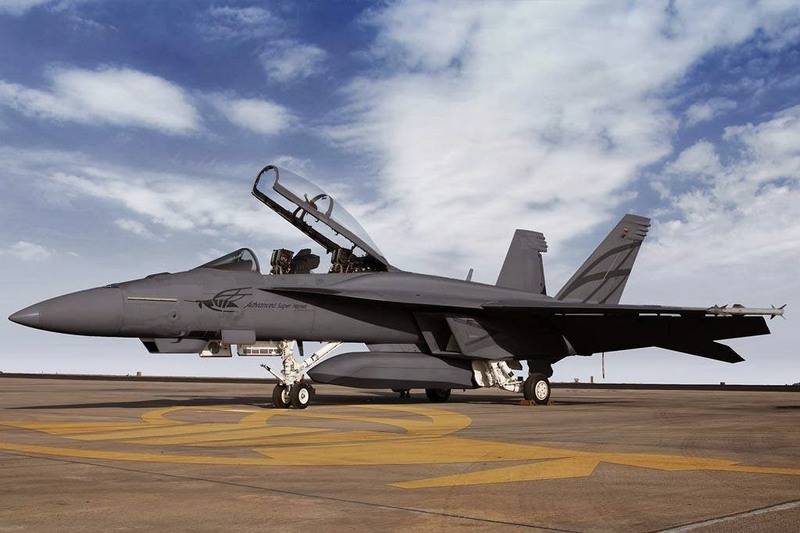 According to the publication, the program for the creation and maintenance of carrier-based Super Hornet fighters was designed for 25 years and was supposed to be completed in 2020 year. However, a significant lag in the creation of the fifth-generation carrier-based fighter F-35 allowed to extend it for some more time. In 2017, Boeing introduced the latest modification of the aircraft - F / A-18 XT (Advanced Super Hornet), received in the U.S. Navy called F / A-18E / F Super Hornet Block III.
The command of the American fleet decided to upgrade the entire fleet of F / A-18E / F Super Hornet to the new version. In addition, on March 21, the US Navy signed a new contract with Boeing to build the X / NUMX new F / A-78 Super Hornet Block III fighter. New aircraft must be commissioned deck carrier to 18 year. The contract value was 2021 billion.
The Boeing F / A-18 Hornet and its modification F / A-18E / F Super Hornet are in service with the US Navy since 1983. The program of creating fighters provided for the gradual removal of their weapons, starting with the 2020 year and replacing the fifth-generation fighter F-35C, designed for use on US aircraft carriers. However, the backlog of the program to create a new aircraft allowed the Super Hornet to extend its operation for a long time.