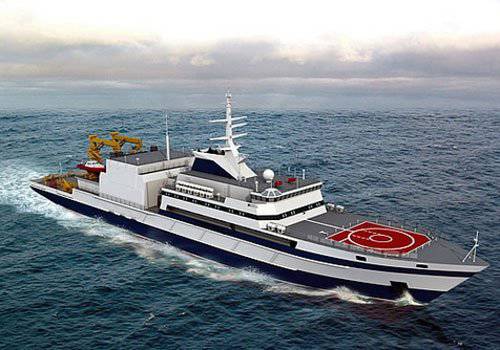 As already reported, after 14 years after the submarine Kursk sank in the Barents Sea, the Russian Navy will receive a modern rescue vessel.
The Igor Belousov, the first ship of the 21300 project, being built in St. Petersburg at the Admiralty shipyards, will go to the Northern Fleet and close the need that has long existed in the Russian Navy. The project provides for the ability to dock with submarines of any type. The vessel will be able to take on board up to 60 submariners for decompression, it will be equipped with a helipad, pressure chambers, underwater equipment designed to work at a depth of up to 700 meters, a modern deep-water rescue complex. In addition, it is reported that the ship will be equipped with modern weapons.
After a number of delays, it is planned to launch Igor Belousov in October 2012 and transfer it to the North
the fleet
in November 2014, the newspaper Izvestia writes.
"Igor Belousov" laid in 2005 year, but the construction of which was disrupted due to problems with funding. The timing was also affected by the change in the supplier of diving equipment. Instead of the Nizhny Novgorod Central Design Bureau "Lazurit", shipbuilders hired the Moscow-Petersburg firm Tetis Pro. However, unlike Nizhny Novgorod, who developed the original rescue system for submariners, in Tetis Pro they took the serial diving complex of the Scottish company DIVEX.
"If it were not for Lazurit, we would have already handed over this ship this year," one of the representatives of the Admiralty shipyards said in an interview with Izvestia.
The "Igor Belousov" with a length of 107 meters and a displacement of 5000 tons will be the first search and rescue vessel built in Russia in more than 30 years. It is intended to equip the vessels of this series with the entire fleet. Next, most likely, will go to the Pacific Fleet.
It is not yet known what kind of weapons will be put on ships of the 21300 project. At the bookmarks ceremony of "Igor Belousov" in 2005, as RIA wrote
News
, Commander-in-Chief of the Russian Navy, Vladimir Masorin, stressed that the ship will be equipped with the most modern weapons.
According to Korabley.net, the cost of the ship will be 100 million.