As already reported, "Military Review", in Russia, work continues on the improvement of domestic helicopters after the participation of combat vehicles in the Syrian antiterrorist campaign. Certain changes concern the Mi-28HM helicopters. In particular, we are talking about new weapons.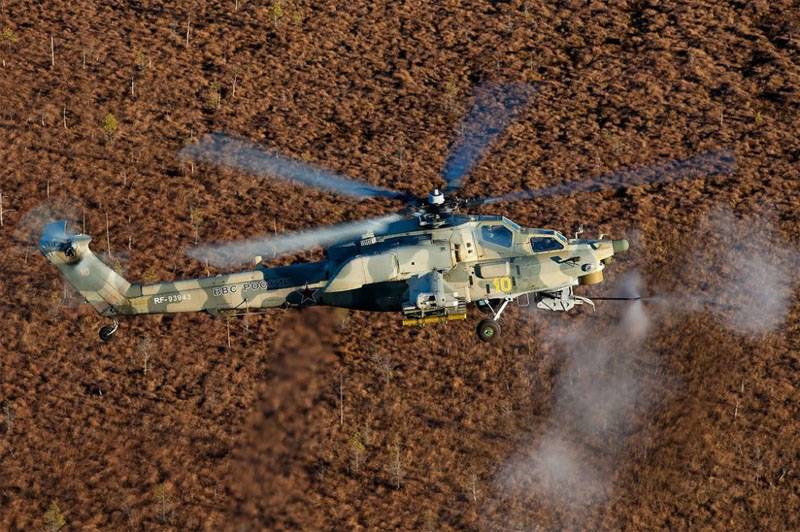 TASS
With reference to an informed source, he writes that the Night Hunter will receive up to eight new guided missiles (SD). This is a so-called "305 product". This rocket is still on one of the stages of creation.
UR "Product 305" can be used both in daytime and at night, which is important for a helicopter with the name "Night Hunter".
It is noted that the rocket is capable of hitting various types of targets on the ground from a distance of more than 25 km. First of all, the rocket can be used for reinforced concrete shelters and enemy armored vehicles.
Ensure the accuracy of hitting the rocket will SINS (onboard inertial navigation system), in which all data about the target are entered before launching the rocket. The crew of the Mi-28HM will receive information about the target through the use of various means, including funds from the ESAW (unified troop control system).
"The 305 product" is equipped with video tools that will allow the Mi-28HM pilots to receive a video signal about the flight and hitting the target. In this case, the signal in this case will go through a protected RBI - information command line.
Recall that earlier the Russian Ministry of Defense and the manufacturer of the helicopters Mi-28HM managed to agree on the price of the purchase of helicopters for the needs of the Armed Forces of Russia.
According to Deputy Minister of Defense Alexei Krivoruchko, mutual understanding has been reached on price, and therefore work is underway to conclude a contract for the purchase in large quantities of not only Mi-28HM, but Ka-52.