The republics of Donbass have chosen the path of integration with Russia, said the head of the DPR Denis Pushilin at the celebrations taking place in Simferopol on the occasion of the five-year anniversary of the Crimean Spring.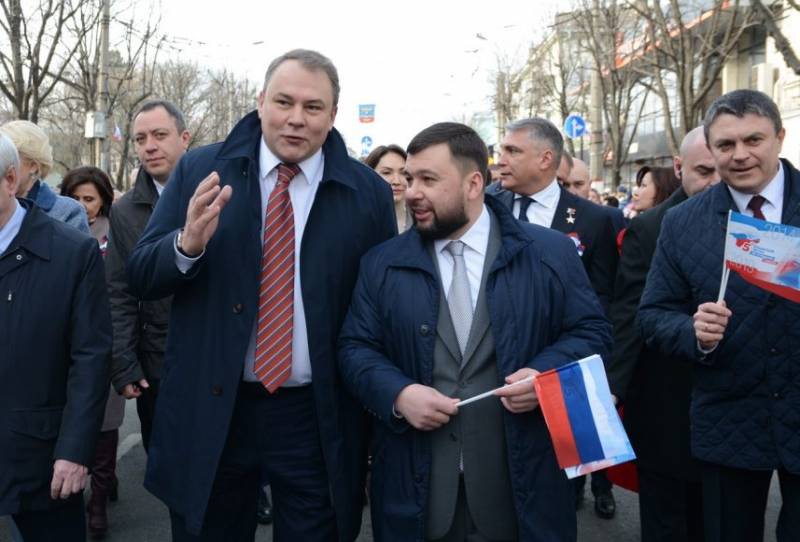 It is difficult to find a resident of the Crimea who does not empathize with what is happening on the territory of the republics (Donbass). It is difficult to find a resident of the republics who does not rejoice over Crimea, the Crimean Spring, and at the same time experiences white envy: Crimea is already at home, and we are still on our way
- quotes Pushilin
DAN
.
At the same time, he expressed confidence that the Donbass will succeed:
Our way home is more difficult, but the result is absolutely predictable. This is what we want.
The head of the DPR also told reporters that the integration processes of Donbass and the Russian Federation are currently moving at a fairly steady pace: the republics are getting closer to Russia in all areas and directions. In addition, good relations have been established with the leadership of Crimea and other Russian regions.
In general, the integration process is gaining momentum
- concluded Pushilin.
The heads of the DPR and LPR took part in laying flowers at the monument to the People's Militia of all time in Simferopol, as well as in a rally in honor of the fifth anniversary of the reunification of Crimea with Russia. Among the guests invited to the events are State Duma Chairman Vyacheslav Volodin, leaders of all four Duma factions.
A monument to the People's Militia of all times was erected in front of the Crimean government building in 2016. He perpetuates the militias of three different eras: the Crimean War, World War II and the Crimean Spring.