Large anti-submarine ship (BOD) of the North
fleet
Severomorsk ended its stay in Sevastopol and left the main base of the Black Sea Fleet, the press service of the Black Sea Fleet reports.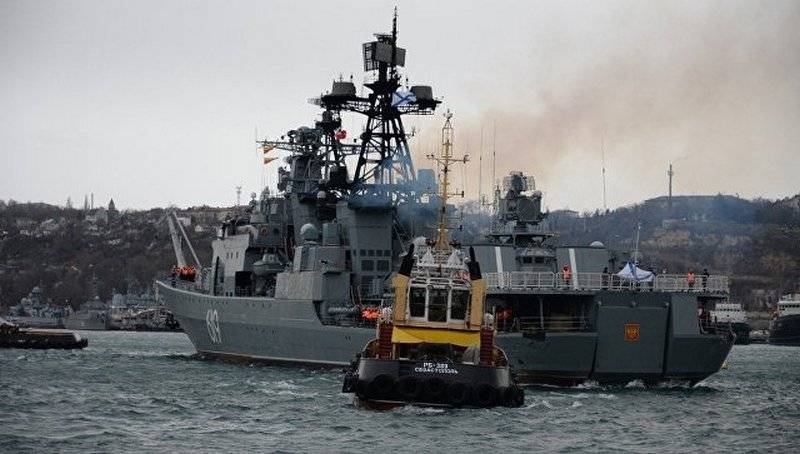 The press service said that the BOD Severomorsk today set off from Sevastopol for a long hike after a two-month stay at the main base of the Black Sea Fleet. The reasons for the long parking of the ship are scheduled maintenance and the release of personnel after a previous long hike. According to preliminary information, "Severomorsk" went to the Mediterranean Sea, where he would spend some time, and from there he would make the transition to the point of permanent deployment to the main base of the Northern Fleet - Severomorsk.
The ship left Severomorsk at the beginning of July last year, took part in the Main naval parade in St. Petersburg, after which he performed tasks as part of the permanent compound of the Russian Navy in the Mediterranean Sea. From late September to mid-December, BOD was located in the waters of the Indian Ocean, Gulf of Aden, Red Sea and Arabian Sea, where he performed tasks to ensure the safety of civilian shipping. 10 arrived in Sevastopol on January of this year and immediately got up for maintenance.
BOD "Severomorsk" (project 1155) was laid at the factory "Yantar" in Kaliningrad in 1984 year. Launched in 1985 year. As part of the Soviet Navy with 1988 year.
Displacement standard 6840 tons, full 7570 tons. 163 meter length, 19 meter width, 5,2 meter draft. Full speed 29,5 knot. 6882 cruising range on 14 nodes; 4000 miles on 18 nodes. Autonomy 30 day. Crew 293 man, including officers 46.