Chinese media have published information that the personnel from among the representatives of the Harbin Air Force Academy was involved in special exercises on Xian H-6 bombers (modification H-6K). In the media materials of the People's Republic of China it is reported that the pilots were practicing flights at low altitudes, followed by calling on "non-nuclear bombing."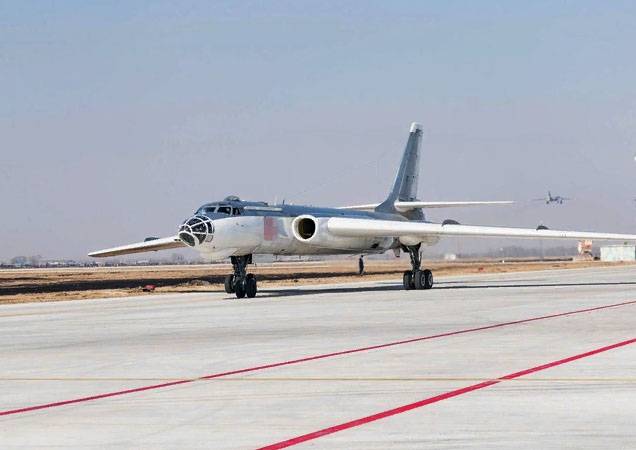 We are talking about the aircraft, the base model for which was the Soviet Tu-16. In this case, the H-6K is one of the latest versions of the bomber, equipped with D-30KP-2 engines. The combat load (and he is able to carry and nuclear
weapon
) This Chinese aircraft is about 12 tons. The combat radius of the H-6K is about 3 thousand km. The weapons of the PLA Air Force Xian H-6K bomber took about 8 years ago.
It is noteworthy that the colors in which the Chinese media describe not only the bombing exercises themselves
aviation
, but also directly to the H-6K. SINA portal publishes photographs of a Chinese aircraft and writes that it can be called
"God of War"
.
A very serious definition for such an aircraft. However, the media and in our country often give the same type of characteristics for certain types of not the most modern domestic weapons.
The PRC media reminds that the PLA has a naval version of this bomber today. This is a Xian H-6J with anti-ship missile launch capabilities. The Chinese aircraft manufacturing industry is working on the creation of the H-6N modification, which could become the carrier of the DF-21D anti-ship air-launched missile (DF-21DA). However, information that such a modification of the rocket is already prepared is not published in the Chinese media.