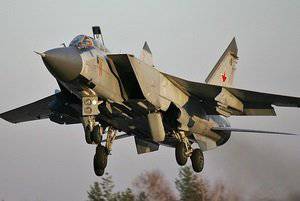 This year, about ten upgraded MiG-31BM interceptor fighters capable of simultaneous targeting will go into service in the Central Military District (CEC).
weapons
six out of ten air targets, commander of the 2-th command of the Air Force and Air Defense of the Central Military District Viktor Sevostyanov said. This writes the "look".
"MiG-31BM can simultaneously accompany up to ten air targets with simultaneous aiming of weapons on six of them. Updated interceptors will be able to interact with ground-based anti-aircraft missile systems, as well as coordinate the actions of other fighters in the link. The flight characteristics of the MiG-31BM compared with interceptors of previous versions will not change. The aircraft can reach speeds of up to 2,5 ths. Km / h (meaning cruising speed). The combat radius of the fighter is 720 km, "said Major General Sevostyanov.
He specified that the fighter can detect targets at ranges up to 320 km and hit them at a distance of up to 280 km. Sevostyanova added that in general, up to 2020% will be updated in the Central Military District by 70
aviation
military equipment.