In Poland, another fighter crash of the Polish Air Force MiG-29 took place. The fighter crashed in the Mazovian province, the pilot managed to eject. The official representative of the General Command of the Armed Forces of the Republic, Marek Pawlak, told reporters about this.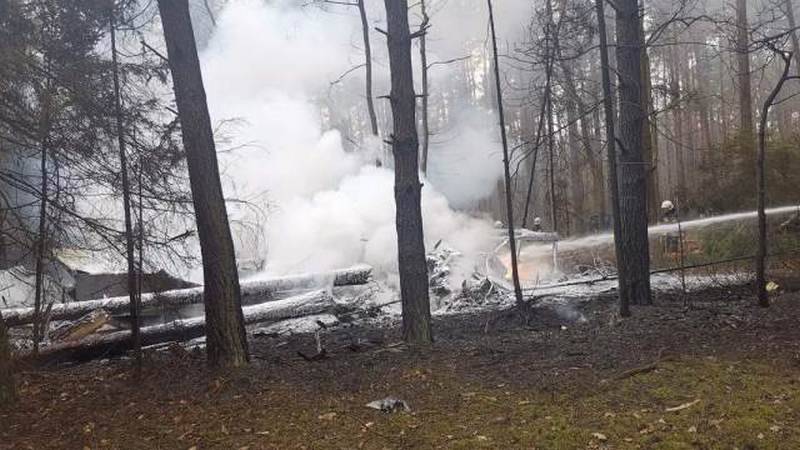 Photos from the crash site
According to the official statement of the Ministry of National Defense of Poland, the fighter of the Air Force of the country made a training flight. The collapse took place in the region of Węgrow in the Mazovian Region. The plane crashed to the ground, and then caught fire. The fighter pilot managed to eject.
He was found. It is in good condition. He was taken to the hospital for examination. That's all i know now
- declared the official representative Marek Pawlak.
Rescuers and firefighters who are engaged in fire extinguishing work at the crash site. The reasons for the crash of the aircraft have not been established, a special commission is being created that will investigate the incident.
According to preliminary information, the MiG-29 fighter belongs to the air base park in Minsk-Mazowiecki.
This is not the first accident of the MiG-29 fighter in the Polish Air Force. Over the past two years, two MiGs have been lost. December 18 2017 fighter MiG-29 Polish Air Force crashed near Minsk Mazowiecki, the pilot ejected and remained alive. 6 July 2018, the Polish Air Force MiG-29 crashed in the Warmia-Mazury province of the country, the pilot ejected, but died.
Earlier, the Polish Ministry of National Defense announced plans to purchase American F-35 fighter jets, including to replace "obsolete and unreliable Soviet MiG-29 and Su-22 fighters."