In the media, there are details of air combat in the area of ​​the Indo-Pakistan border. We are talking about yesterday's air force, as a result of which the Pakistan Air Force shot down two planes and one helicopter of the Indian Air Force, and the Indian Air Force shot down one aircraft of the Pakistani air force. According to Asian media, a total of more than three dozen aircraft converged near the border: 8 from India (two links, including MiG-21, Dassault Mirage 2000 and Su-30) and 24 from Pakistan (including F-16, JF- 17 and Dassault Mirage-III). At the same time, the majority did not participate in direct air combat.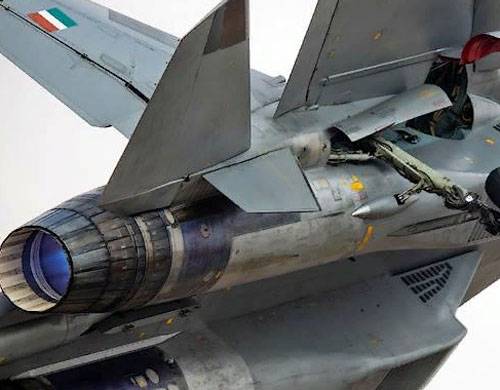 The information that
MiG-21
Indian Air Force was shot down by a JF-17 Thunder pilot (a plane made in China) - in the Chinese nomenclature
Chengdu FC-1 Xiaolong
. In total, Pakistani Air Force has more than fifty such fighters, including 4
JF-17 Block 2
. A Pakistani pilot used one of the air-to-air missiles against the MiG-21 of the Indian Air Force. According to some reports, we can talk about the Chinese short-range missile PL-5C. As is known, the pilot of the shot down Indian Air Force plane was captured. And today, Pakistan's Prime Minister has decided to release an Indian soldier. This process will take place tomorrow - March 1.
This air battle contains many questions. One of them is as follows: why did the commander of the Indian unit, including
Su-30
and Mirage-2000, was the pilot exactly the MiG-21? And why did he find himself in the "thick of battle" on a far from the most modern aircraft? Experts say, to put it mildly, confusing logistics in the Indian Air Force.
But the situation is even more confusing if you pay attention to publications in Indian newspapers. It stated that the pilot of the MiG-21 "began the pursuit of the fighter
F-16
violated the Indian air borders. " At the time of "pursuit", the MiG-21 received a Chinese rocket, and the F-16 of the Pakistani Air Forces - a missile from the Su-30 of the Indian Air Force. It should be noted here that Islamabad has not yet recognized the loss of its aircraft.
From all this
stories
I frankly want only one thing: so that it ends as soon as possible, and the parties realize the danger of cultivating a conflict between nuclear powers. It seems that the Pakistani Prime Minister was the first to realize that colossal negative, on the way to which two neighboring states were walking these days.