In the section "On working noon", we present the reaction of foreign media to the 2-day summit that took place in Hanoi. We are talking about the DPRK-USA summit, during which the leaders of the two countries - Kim Jong-un and Donald Trump, held negotiations.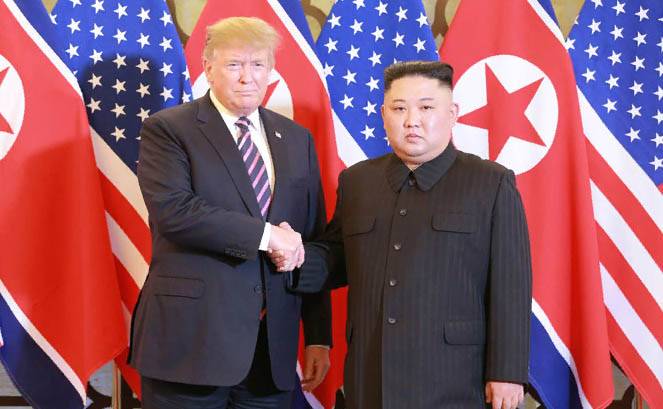 The European press does not hide its disappointment. The general message could be translated into Russian: "Swing on the ruble, hit on a penny." In the editorial column of a major German publication Frankfurter Allgemeine Zeitung (
FAZ
) Martin Beninghoff published material, calling the main event of the summit the absence of any significant agreements.
From the material:
And, probably, the only success of this summit can be called the fact that the DPRK leader for the first time answered questions from foreign reporters.
At the same time, Benninghof, calling Kim Jong Un a "dictator," writes:
he used to at home that meetings with the press were "constant praises."
From the article:
And he was obviously not ready for the uncomfortable questions in Hanoi from journalists.
The Chinese press issued various assessments of the summit. Some publications note that the very fact of meetings between Kim and Trump is good for the world and pushes the war. Others, citing military experts, write that the contracts of Washington and Pyongyang could be dangerous mainly for China. According to some Chinese experts, the United States would like to turn the DPRK into a "tame" country, the territory of which could well be used as a destabilizing factor in relation to the PRC.
Japanese News Agency
Kyodo
notes that to agree on the issue of denuclearization, Trump and Kim failed. Statements by the heads of North Korea and the USA are given.
Trump:
They (the DPRK authorities) wanted us to lift the sanctions in full, but we said that we cannot do this yet. They do not want to carry out denuclearization in those areas that we pointed to them. They are ready to provide us with areas for monitoring, but, unfortunately, not the ones we would like to check.
Kim:
We were able to agree on a number of issues. For example, we agreed to open an American communications office in Pyongyang.
World media also noted: Trump thanked Kim Jong-un for refusing to conduct nuclear tests.